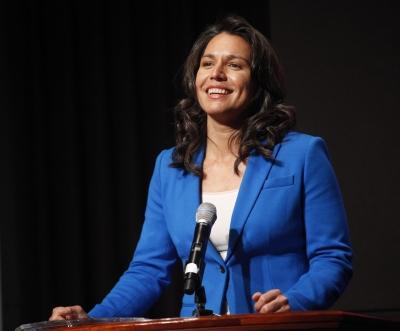 A man was on Monday sentenced to 33 months in prison in the United States for making a series of threats to Tulsi Gabbard, the first-ever Hindu-American Congresswoman. Aniruddha Sherbow, 42, was given the prison term by a federal court in the US.
According to the government's evidence, he had been harassing Gabbard since February 2011, including making threats via email and telephone. The charges relate to two such threats, made in August 2013.
On August 1 last year, Sherbow left a voicemail message on Gabbard's phone in which he threatened to kill her. Gabbard was in Washington, DC, when she received the message.
On August 3 the same year, Sherbow, identifying himself by name, sent an e-mail to Congresswoman Gabbard and others, including the Federal Bureau of Investigation. The subject and body of this e-mail also contained threats directed at Gabbard.
Sherbow was arrested in Tijuana by Mexican law enforcement officers and was handed over to the FBI. US attorney for the District of Columbia, Ronald C Machen, said Sherbow entered a plea of nolo contendere on February 21, 2014, in the Columbia District Court, to two counts of transmission of threats in interstate commerce.
Under a nolo contendere plea, a defendant is convicted of the offense, accepts responsibility, and agrees that the government could prove him guilty beyond a reasonable doubt.
However, the defendant in such a plea does not admit to the facts of the case.
Following his prison term, Sherbow will be placed on three years of supervised release. During that time, he is barred from any direct or indirect contact with Gabbard. District Judge Reggie Walton also ordered Sherbow to pay $538,282 in restitution to the US government, as reimbursement for security expenses incurred as a result of his threats.
The judge also ordered Sherbow to get a mental health evaluation and treatment, if necessary. Sherbow has lived in New York, California, Mexico and Hawaii.