The West Bengal CM's media equation wasn't always this bad. In the run-up to the assembly elections of 2011, she was a clear favourite, reports Ishita Ayan Dutt.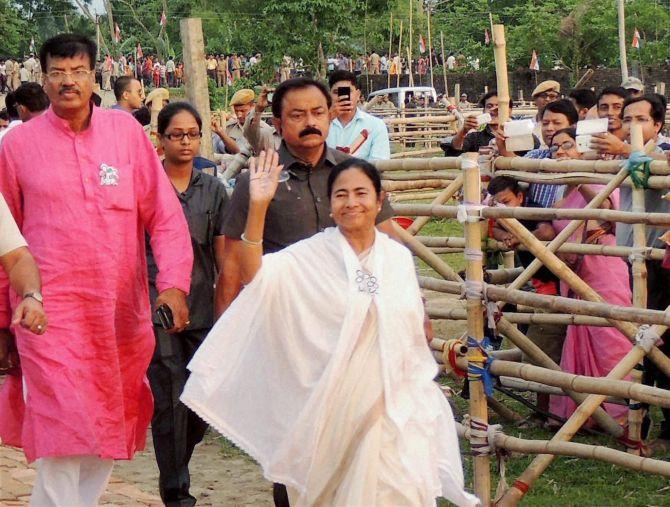 "I hope there is a bad 'M' and a good 'M'. We need the transition", Ratan Tata, then Tata group chairman, had said at a press conference in 2008 to announce Nano's relocation to Sanand in Gujarat.
The bad 'M' he was alluding to was Mamata Banerjee, who had led an indefinite agitation against the project that led to its pullout from Singur in West Bengal; the good 'M' was Narendra Modi, then Gujarat chief minister, who had rolled out the red carpet for Nano and gave it a new home.

About eight years since the event, West Bengal chief minister Mamata Banerjee appears to have found her bad 'M' in the media: the Anandabazar Patrika group.

In the initial days of the campaign, Banerjee's tirade was covert, directed towards 'a section of the media', but the election has proved to be excruciatingly long this time and frayed nerves have made way for a more direct attack.

"They -- the Communist Party of India-Marxist, the Congress, the Bharatiya Janata Party and the ABP -- have been continuously complaining about the elections. I will give them a lollipop and a pillow after the elections," she said recently at a rally.

When contacted, ABP declined to respond.

There have been numerous such instances in the past few weeks when she has directly taken on the ABP group and declared it a fourth opponent alongside the Congress, the CPI-M, and the BJP.

Last week, there was a story: "Why is Aveek Sarkar so desperate to credit Mamata Banerjee?" by Millennium Post. Aveek Sarkar is the editor-in-chief of ABP.

Trinamool Congress national spokesperson Derek O'Brien had retweeted the story.

"This election will be remembered for its swings and if it swings in favour of the CPI-M-Congress alliance, then the media would have played an important role," political analyst, Sabyasachi Basu Ray Chaudhury, said.

But the Mamata-media equation wasn't always like this. In the run-up to the assembly elections of 2011, she was a clear favourite.

In 2012, four journalists -- Kunal Ghosh, Nadimul Haque, Vivek Gupta and Ahmad Hasan Imran -- were nominated to the Rajya Sabha. Ghosh was, however, suspended from the party in connection with the Saradha scam, later.

Bureaucrats say, Banerjee was very much guided by the media in her initial days. The honeymoon continued till about six months of the new government.

But reporting some events -- like branding students Naxals, labelling Park Street rape case a conspiracy, arresting a professor for forwarding a joke, prescribing newspapers that state-run libraries should keep -- made a bad 'M' out of media.

This time, it's Banerjee who needs a 'transition' to good 'M'.