West Bengal Chief Minister Mamata Banerjee on Tuesday said she has written to the Centre, seeking permission to visit the strife-torn state of Manipur.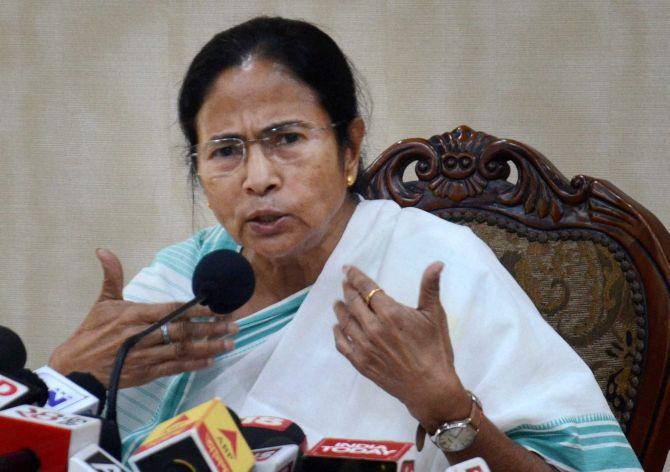 According to officials, the Trinamool Congress supremo has been closely monitoring incidents in the northeastern state.
Questioning the "delay" by central leaders in reaching out to Manipur, she also said the "country wants to know the real picture in Manipur".
"I want to be with the people of Manipur -- I have no intention to breach any protocol but wish to be with the peace-loving people of the state," Banerjee told reporters at Nabanna, the West Bengal secretariat, adding that she had sent the letter to the central government on Monday.
She had last week accused the Bharatiya Janata Party of trying to create "Manipur-like conflicts" in West Bengal.
To visit, work or do business in Manipur, all people from outside the state require an inner line permit.
However, the permit is issued by the state government and not the Centre.
Banerjee's party, the TMC, has been trying to expand its footprint outside West Bengal without much success.
While it managed to win five seats in the recently held elections to the Meghalaya assembly, the party drew a blank in polls to the Tripura assembly.
The TMC used to have one MLA in the Manipur assembly, prior to the elections held last year.
However, TMC legislator Tongbram Robindro had joined the BJP ahead of the 2022 elections.
Notably, Union Home Minister Amit Shah arrived in strife-torn Manipur on Monday night to try to restore peace by hammering out a solution between the warring communities.
The northeastern state, afflicted by ethnic conflict for nearly a month, witnessed a sudden spurt in clashes and firing between militants and security forces on Sunday, after a relative lull for several weeks.