West Bengal Chief Minister Mamata Banerjee on Monday reiterated her call to defeat the Bharatiya Janata Party in 2024, and said the country should strive to bring in a 'people's government to end anarchy'.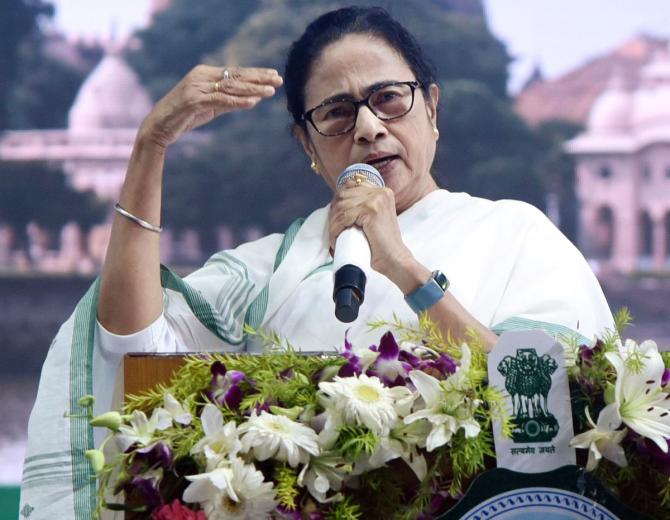 Speaking in the assembly, Banerjee, in an apparent reference to BJP president J P Nadda's recent remark on violence and corruption in Bengal, asserted that her state happens to have a better law and order situation than other parts of the country.
She also claimed that the Border Security Force (BSF) has 'unleashed terror' in the bordering areas of the state.
"Innocent people are being killed in bordering areas. The Centre never bothers to send fact-finding teams to look into these killings," the CM said.
Mocking the Centre's notification asking people to hug a cow on Valentine's Day, which was later withdrawn, Banerjee wondered what would happen if the cow hits the person.
"If the cow hits us, what will happen? Will they (BJP) pay us compensation," she added.
BJP MLAs walk out
The BJP staged a walkout in the assembly after Leader of the Opposition Suvendu Adhikari was stopped from completing his speech by Speaker Biman Bose.
As the House gathered after recess, Adhikari began delivering his speech, criticising the governor's inaugural address.
The speaker, however, asked him not to make such allegations on the floor of the House.
The BJP legislative party, in protest, raised slogans against the speaker and staged a walkout in the assembly.
"I reserve my right to introduce privilege motion against Suvendu Adhikari for casting aspersions on the speaker," Banerjee then told the assembly.
Later, during her speech, Banerjee condemned Adhikari's conduct in the House.