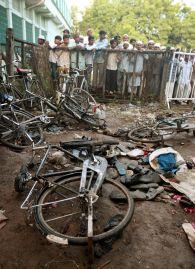 The National Investigation Agency has contradicted findings of the Anti Terrorism Squad and the Central Bureau of Investigation in its chargesheet filed Wednesday in the Malegoan blast case of 2006.
"The earlier investigation by ATS and CBI focused on a fake bomb recovered on September 13, 2006," read the chargesheet filed by the NIA Wednesday.
A "fake" bomb was found on the staircase of the Mohammedia Mosque on September 13, which did not explode and was defused by bomb detection officials.
The Malegoan police had arrested Noor-ul-Hooda and Raees Ali in the fake bomb case and later they were booked in the Malegoan 2006 blast case.
The NIA said that the ATS and CBI linked the fake bomb incident with the Malegoan blast of 2006.
Further, the NIA chargesheet said that the CBI could not find any additional evidence against the accused chargesheeted by the ATS.
"It is revealed that from the perusal of available records, the CBI could not find any additional evidence against the accused chargesheeted by ATS except the recorded conversation between accused Abrar Gulam Ahmed, who had turned an approver in the case," read the NIA's chargesheet.
The ATS had arrested nine accused including Noorul Huda Samsudoha (28), Shabbir Ahmed Masiullah (41), Raees Ahmed Rajab Ali Mansuri (35), Salman Farsi Abdul Latif Aimi (40), Dr Farogh Iqbal Ahmed Magdumi (38), Mohammad Ali Alam Sheik (42), Asif Khan Bashir Khan alias Junaid (35), Mohammad Zahid Abdul Majid Ansari (31) and Abrar Ahmed Gulam Ahmed (38), for the blast.
However, after taking over investigations, the NIA did not oppose their bail applications and subsequently all were granted bail.
Later, the NIA investigated the case and found that the blast was the handiwork of a Hindu right-wing group and arrested Lokesh Sharma, Dhan Singh, Manohar Singh and Rajendra Choudhary who were all chargesheeted Wednesday.
The NIA's focus shifted towards the right-wing group after Swami Aseemanand, an accused in the 2007 Mecca Masjid blast confessed that it was allegedly involved in the Malegoan 2006 blasts.
The bombings were part of a series of explosions that had taken place on September 8, 2006, in Malegaon, a communally-sensitive town in Nashik district of Maharashtra, located about 300 km from Mumbai.
The explosions which killed 37 people and injured over 125, had taken place in a Muslim cemetery, adjacent to a mosque, at around 1315 hours after the Friday prayers on the Shab-e-Baraat, a holy day for Muslims. Most of the blast victims were Muslim pilgrims.
According to the police, two bombs attached to bicycles had exploded, triggering a stampede.
Malegaon had seen another terror act in 2008 allegedly by right-wing Hindu groups involving Sadhvi Pragya Singh and former Indian Army Lt Col Srikant Purohit, who were arrested in connection with it.
Image: Damaged bicycles and torn footwear of bomb blast victims are strewn inside a mosque compound in Malegaon, a day after the blasts in 2006
Photograph: Punit Paranjpe/Reuters