A day after a massive blaze gutted the stage at the Make in India event at Mumbai's Girgaum Chowpatty, fire brigade officials admitted that organisers of the event had not complied with nearly 10 fire safety measures.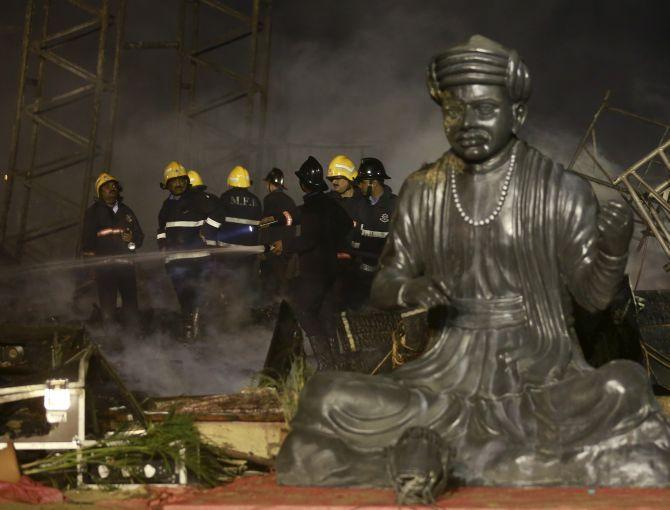 The fire brigade authorities have begun their probe and are investigating the blaze from all angles, including sabotage.
Fire officials have revealed that organisers used outdated fire extinguishers, had stored combustible material in the changing room and cylinders near the stage and there was no availability of trained operators for fire extinguishers.
Further, a prima facie report by the Brihanmumbai Municipal Corporation's disaster management unit states that it was the pyrotech apparatus that first caught fire. It spread across the entire stage where Liquefied Petroleum Gas cylinders were kept.
Additionally, documents show that the Mumbai Fire Brigade's 59-point no-objection certificate for the temporary stage erected for the event was only partly complied with. The investigation also reveals that the electric wiring was found to be not up to the mark, entry and exit points were inadequate.
On Sunday, a massive blaze gutted the stage at the Make in India event. More than 100 VIPs and 25,000 people were at Girgaum Chowpatty.
Following the blaze, Chief Minister Devendra Fadnavis ordered a high-level probe. Fire brigade officials said that they would submit a detailed report on Tuesday. "We will submit a detailed report. Everything will be clear in that," Chief Fire Officer Prabhat Rahangdale said.
Image: Firefighters try to extinguish a fire at the venue of the 'Make in India' week in Mumbai. A huge fire engulfed the venue. Fortunately, no one was injured in the blaze. Photograph: Danish Siddiqui/Reuters