When the high court turned down the state government's plea, Maharashtra approached the Supreme Court.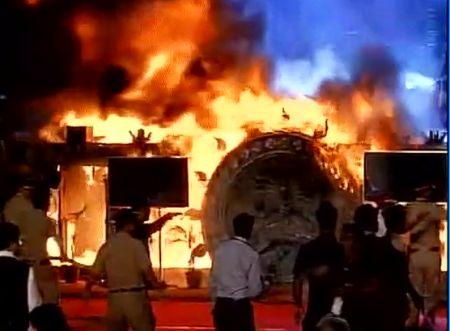 IMAGE: The fire at the Make in India event, February 14, 2016.
The Bombay high court had rejected the Maharashtra government's plea to stage the Make in India Week event at Girgaum Chowpatty, but the state government was adamant and petitioned the Supreme Court which granted the permission.
Bombay High Court Justices Abhay Oka and C V Bhadang rejected the Maharashtra government's application on January 21 when it sought permission to host the Make In India event at Girgaum Chowpatty on February 14.
In their order on January 28, the judges stated that the Bombay high court had formed a committee in 2005 to look at the staging of programmes at Girgaum Chowpatty, South Mumbai.
The high committee committee was formed after then chief minister Sushil Kumar Shinde approached the court for permission to conduct a political rally at Girgaum Chowpatty.
The committee recommended that the Girgaum Chowpatty stretch be out of bounds for political rallies and other events.
The only exception to be made was for immersion of Lord Ganesh and Durga idols.
Since 2005, the only event held at Girgaum Chowpatty was a function to celebrate 50 years of Maharashtra's statehood in May 2011.
Maharashtra Advocate General Sheehari Aney told the Bombay high court last month that the Make in India event would be four hours in duration and open to the public.
Aney further stated that the prime ministers of some countries and 57 foreign dignatries would be present and that it would be nice to host the event against the backdrop of Mumbai's famed Queen's Necklace on Marine Drive.
'We are not concerned about how to impress people, the judges said, asking why the event should be staged on the waterfront.
The presence of foreign dignitaries did not make a case for treating the Make in India event on par with the May 2011 function to celebrate 50 years of Maharashtra as a state, the judges said and rejected the state government plea.
The Maharashtra government then approached the Supreme Court on February 1 and Justices M Y Eqbal and Arun Mishra granted the permission to hold the event.
Appearing for the state of Maharashtra, Attorney General Mukul Rohatgi told the Supreme Court that the Make in India event was 'India's pride' and added that the Devendra Fadnavis administration did not propose to raise a permanent structure at the site.