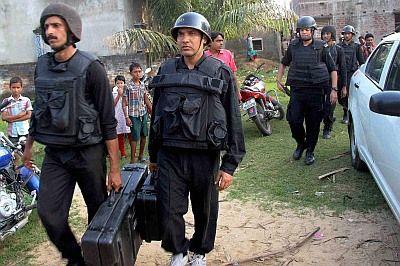 West Bengal police on Saturday arrested the mastermind of Burdwan blast Sk Rahmatulla alias Sajid, a Bangladeshi national and stated to be a Chief Commander of Jamaat-ul-Mujahideen Bangladesh terror group.
National Investigation Agency, which took the custody of Rahmatulla from state police, said in a late night statement that Rahamtulla was the son of a retired Lieutenant of Bangladesh army and a resident of Narayanganj district of that country.
He was apprehended by sleuths of Bidhannagar Police Commissionerate in the afternoon from the Airport area of North 24-Parganas district.
"Today we arrested a person Sheikh Rahamatullah. He is a Bangaldeshi. After interrogation, it was revealed that he is Sajid who is involved in the Burdwan blast case and is the chief of Burdwan module. This is also confirmed by the fact that NIA has declared the cash award of Rs 10 lakhs," Bidhannagar Police Commissioner Rajeev Kumar told reporters.
"Sajid, alias Sheikh Rahmatullah, is a member of Jamat-ul-Mujahadeen Bangladesh and is a member of Majlis-e-Sura which is the central committee of Jamat," Kumar said.
The Deputy Commissioner (Detective Department) Kankar Prasad Bouri, said Sajid is the mastermind of Burdwan blast case. Kumar also said Sajid had spent a few years in a jail in Bangladesh.
According to Kumar, the Detective Department of Bidhannagar Police Commisionarate laid a trap with money and the courier who was carrying the money was convinced by the police to bring him and when he came to receive the money, the police arrested him. Around 1 lakh rupees was recovered from him.
Rahmatulla, 40, was handed over to National Investigation Agency, which is probing the Burdwan blast case, this evening. Several fake identity documents like Electoral Photo Identity Card, driving license and PAN card were recovered from the possession of Rahmatullah who is one of the main leaders of JMB in West Bengal.
The arrest of Rahmatullah, who stayed near Lalgola Madrasa (religious school) in Mukimnagar of Murshidabad district, has given a fresh lease of life to the probe conducted by National Investigation Agency whose which had otherwise hit a dead end with no clues emerging from the October two blast case, official sources said.
Also Read: What went on inside Bengal's house of terror?

Did this Bengal madrassa train terrorists?

Burdwan blast: IEDs found in house where militants were staying