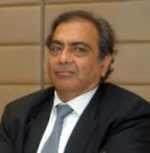 Pressure mounted on Bharatiya Janata Party President Nitin Gadkari to quit the post in the wake of allegations of financial wrong doings against him with senior lawyer Mahesh Jethmalani today resigning from the party's National Executive saying the issue was affecting its image.
"I do not deem it morally and intellectually appropriate to continue to serve on the party's national executive as long as you are the president," Jethmalani said in a terse single- sentence letter to Gadkari.
Mahesh's decision came nearly a fortnight after his father and BJP's Rajya Sabha MP Ram Jethmalani asked Gadkari to quit the post and not to seek a second term in office in the wake of allegations against him.
Gadkari is in the line of Opposition fire following media reports about dubious funding of his company Purti Sugar and Power. Party leaders have maintained that Gadkari himself has offered to face any probe in the allegations but murmurs within are said to have forced him to cancel electioneering in Himachal Pradesh last week.
Talking to reporters in Delhi, Mahesh said he has not not going a clear answer to his satisfaction on the allegations against Gadkari.
"Since my personal conscience was not satisfied I have chosen to resign from the national executive. I will continue to serve the party," he said.
Asked if he had written to Gadkari seeking his clarifications on the issue relating to his company, Mahesh said 'no'.  "But based on his defences that are in public domain, I have made my personal analysis."
To a question whether the allegations against Gadkari has affected the party's image, he said, "Yes.  I feel that it's affecting the party's and we are delaying it (a decision).  I would like to say this party leadership, that this issue should be resolved as soon as possible."
Reacting to the development, BJP spokesman Rajiv Pratap Rudy expressed unhappiness over Mahesh making the letter public acknowledging that it would cause much damage to the party.
Asked if Jethmalani had taken this step to build pressure on Gadkari to quit, Rudy said, "There is no question of any pressure." He maintained that the allegations against Gadkari have already been debated inside the party.
Media investigations have claimed that several shell companies (inactive business entities floated for financial manoeuvres) were floated to pump finances for Purti. Addresses of several of the directors of these companies furnished to the Registrar of Companies were allegedly found to be fake.
Both Income Tax and Registrars of Companies have launched investigations.
Ram Jethmalani had also attacked Gadkari about a fortnight ago, saying he should quit in the interest of the party and his own.
"In the interest of the party, in his own interest, he should get out of the fray now and he must give the position to somebody who inspires greater confidence. He should not aspire for a second term," Ram Jethmalani had said.
Maintaining that Gadkari's continuance weakened the party's position, Jethmalani said,"Obviously, there is suspicion about his integrity and in the interest of the party and his own interest he must get out of this position.
"It weakens the party position. In the coming elections we are fighting against corruption and we have to have a man of absolute impeccable integrity," he had said.