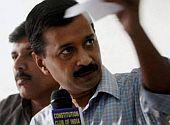 Activist Arvind Kejriwal on Friday demanded that BJP chief Nitin Gadkari and Robert Vadra declare all their business interests and details of their land assets in the country.
He said the probe against Gadkari by IT Department was an "eye-wash" as Congress and BJP were "hand in glove" trying to save each other.
"Vadra should publicise where all he owns land. What are his business interests? When did he buy this land and at what cost? Gadkari and Vadra should publicise all their business interests in the country and abroad," he said.
On the Income Tax department launching a probe to trace the source of funding of various firms that invested in Gadkari's company Purti Power and Sugar Limited, he said government has said that the IT Department would submit a report in a month.
"IT Act has no provision for such a probe. Is the government fooling people? Under the IT Act, you can raid under Section 132, or survey under Section 133 A or scrutinise under Section 143. What is the government doing?
"Will IT find anything if it conducts raids or surveys? Raids are conducted in secrecy. This is how CBI conducts raids after grand announcements. And what happened to Robert Vadra? Does any agency have guts to even summon him or investigate him. He is so right. It's a banana republic," he said.

He also asked if the IT Department is probing Gadkari, why was it not investigating Vadra?

"Are all these probes merely eyewash? Time will tell. It would further prove that Congress and BJP are hand in glove," he said.

On media reports stating that Haryana officers had given Vadra clean chit, he said: "That was expected. The country would be surprised if it were otherwise. In Haryana, all good officers are shunted out. Those in key positions crawl when asked to bend. Now Congress will protect Gadkari and BJP will protect Vadra," he said.