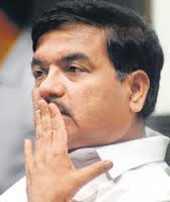 An FIR has been filed against Maharashtra Home Minister R R Patil by the Karnataka police for promoting enmity between different groups on grounds of religion, race or language for his alleged provocative speech on the Belgaum issue, a bone of contention between the two states.
Patil has also been booked under Representation of People Act for violation of the election code for the May 5 assembly poll in the state, police said in Bangalore on Thursday.
The FIR was filed for "provocative utterances" by Patil at a function organised in Bangalore on Sunday to celebrate the birthday of Kiran Thakur, leader of Maharashtra Ekikaran Samithi and the editor of Marathi daily Tarun Bharat, according to Belgaum Superintendent of Police Sandeep Patil.
The Belgaum police, which filed the FIR on Wednesday, is probing the case and would take legal action accordingly, the SP said.
In his speech, Patil had allegedly made provocative remarks while recalling the incident when the then Belgau mayor Vijay Pandurang More was attacked in Bangalore several years ago for a resolution by the civic body seeking merger of Belgaum and several other Marathi-speaking areas with Maharashtra.
The FIR has been registered under Sections 153(A) of the Indian Penal Code for provoking and creating disharmony between communities on religion, race, place or birth or language and under the Representation of People Act, police said.
Belgaum and some other border areas have been a bone of contention between Maharashtra and Karnataka. Maharashtra claims Belgaum should be part of it, but Karnataka maintains that it is part of the state and the issue is a closed chapter.
A political outfit, MES, has been raking up the Belgaum issue now and then, evoking strong reaction from Kannada protagonist bodies.