Maharashtra on Wednesday reported 13,165 new COVID-19 cases, highest one-day count, taking its tally to 6,28,642, while 346 fresh deaths pushed the toll beyond the 21,000-mark, a health official said.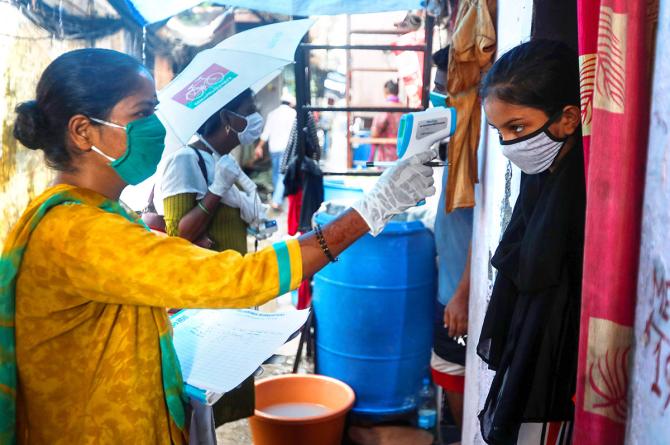 The previous single-day highest was 12,712 coronavirus cases, recorded on August 12.
With 13,165 fresh COVID-19, the cumulative figure of infected people in Maharashtra rose to 6,28,642.
The state reported 346 deaths, taking the fatality tally to 21,033, said the health official.
Also, 9,011 patients were discharged from hospitals, taking the tally of recovered coronavirus patients to 4,46,881, he said.
There are 1,60,413 active cases in the state at present, the official added.
Mumbai reported 1,132 new cases and 46 deaths, taking its tally to 1,31,542 and the toll to 7,268.
The number of active cases in Mumbai stood at 17,914, he added.
Pune city reported 1,233 fresh cases along with 38 deaths, taking the tally to 82,907 and the toll to 2,169, the official said.
Of the 346 deaths, 249 had taken place in the last 48 hours and 59 in the last one week. The remaining 38 deaths occurred before the last week but were added in Wednesday's data, the official said.
The Mumbai Metropolitan Region -- which covers Mumbai and surrounding towns -- reported 3,450 new coronavirus cases, taking its total to 2,95,496, while 109 deaths took the toll in the region to 11,885, the official said.
The Pune division's COVID-19 tally increased to 1,61,286 with 3,440 cases, while 110 fatalities took the death toll to 4,338.
The Nashik division has reported 68,982 cases and 1,803 deaths so far and the Kolhapur division 26,433 cases and 780 deaths.
The Aurangabad division has reported 25,798 cases and 774 deaths and the Latur division 17,316 cases and 532 deaths.
The Akola division has reported 13,315 cases and 392 deaths and the Nagpur division 19,440 cases and 466 deaths.
As many as 576 patients from other states have been treated in Maharashtra, including 63 who died, the official added.
There are 11,62,450 people under home quarantine and 37,094 under institutional quarantine.
Maharashtra's COVID-19 figures are as follows: Positive cases 6,28,642, new cases 13,165, deaths 21,033, discharged 4,46,881, active cases 1,60,413, people tested so far 33,37,848.