'Predictions are that numbers will continue to rise till May end and maybe in the first half of June will be our peak.'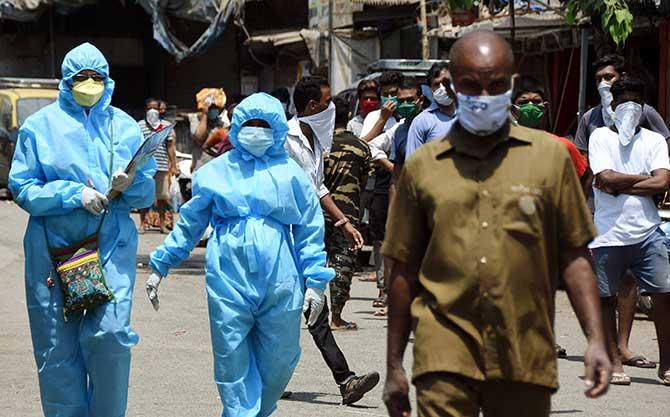 Mumbai is now suffering the sweeping community transmission of COVID-19.
Many city doctors are today seeing an autorickshaw-wallah's son or a waiter's wife, with no history of contact with the first Mumbai sufferers of the illness, present symptoms or test positive with mild or no symptoms.
The uncertainties and questions this virulent disease attracts are never-ending.
When will the cases reach their height in Mumbai?
Are the outlying urban areas of Mumbai -- like Kalyan, Virar, Navi Mumbai, Thane, Palghar -- suffering an equal number of cases and deaths as Mumbai city?
Are any of the newly-suggested cures showing hope of working?
How good a job is the Maharashtra government doing?
Dr Avinash Supe, executive director, Hinduja Hospital, Khar, north west Mumbai, and a gastroenterological surgeon, has the answers to some of these crucial questions. An informative interview with Vaihayasi Pande Daniel/Rediff.com:
Formerly the dean of both KEM and Sion hospitals (King Edward Memorial, Parel, central Mumbai, and the Lokmanya Tilak Municipal General Hospital, north Mumbai), Dr Supe chairs a committee of physicians, chosen by the Maharashtra government, to look at Mumbai's COVID-19 deaths and propose ways to bring down mortality.
The committee has submitted its first report to the government offering certain crucial findings (What you must know about Mumbai's COVID-19 deaths) about the age range of the deaths and the comorbidities.
The second report, examining the next 400 plus deaths, is due next week, by May 21.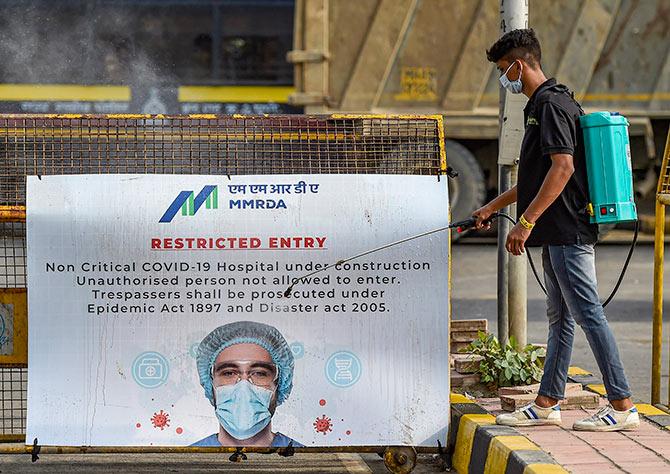 The numbers are rising all the time in Mumbai.
What does the situation look like?
Predictions are that numbers will continue to rise till May end and maybe in the first half of June will be our peak (revised slightly, as of May 15, from his initial prediction of first week of June), then maybe numbers will start to recede some.
There is a chance that COVID-19 cases will increase once the lockdown lifts in Mumbai.
When will the effect of the lockdown lifting on the cases be noticed?
Maybe we will get more patients in the first week of June or second week.
That is my prediction is also.
The way the lockdown is lifted will have its own implications.
The idea of having a lockdown is to flatten the curve, so the city's health system doesn't collapse.
Trying to have dignity in the management of the health system, so that more people are taken care, nobody is left untreated and mortality is under control.
That is what we have to look at, in these kinds of decisions...
If numbers come in a huge wave, then Mumbai we will not be able to handle it.
The city will not be able to handle simultaneous admissions of (say) one lakh patients and 30,000 into ICUs.
Then you will have to make decisions about whom to put on a ventilator or not.
When there is no lockdown (it eases), then these issues will come (to the fore).
If you have a lockdown, probably we will be able to flatten the curve and manage these patients better.
Some areas can be released, where there are not many patients.
Some areas which are hotspots, containment may have to be continued.
We will have to take those differential decisions.
Not me, but whoever is going to take the decisions -- bureaucrats and ministers.
That is (already) going on.
Even the Government of India has (instituted) red zones, orange zones and green zones.
They have also taken differential decisions and also very clearly written what has to be done in a containment area and what has to be done in a red zone etc.
Some movement is allowed.
But it is ultimately people (who have to participate).
They have to really say that we will maintain social distancing, we will be more careful, we will be more careful about our families, our elderly people, our surrounding people.
So, if they take care -- and all people cooperate -- then a (differential lifting of the lockdown) will be successful.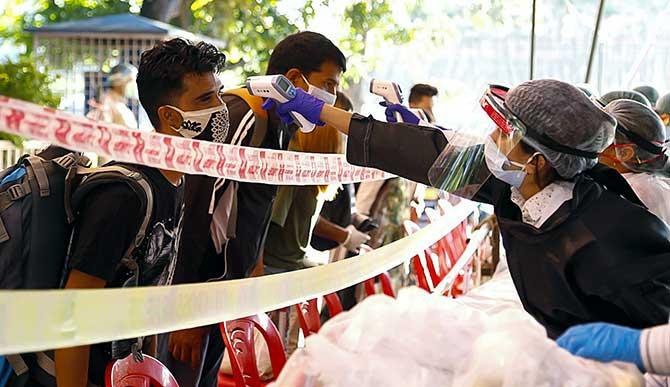 It requires a sort of a social revolution, among citizens, at this point.
Yes. Social responsibility.
People have to also contribute in (continuing to enforce) social distancing and containment.
It is not only individuals or one person who can really achieve this for Mumbai.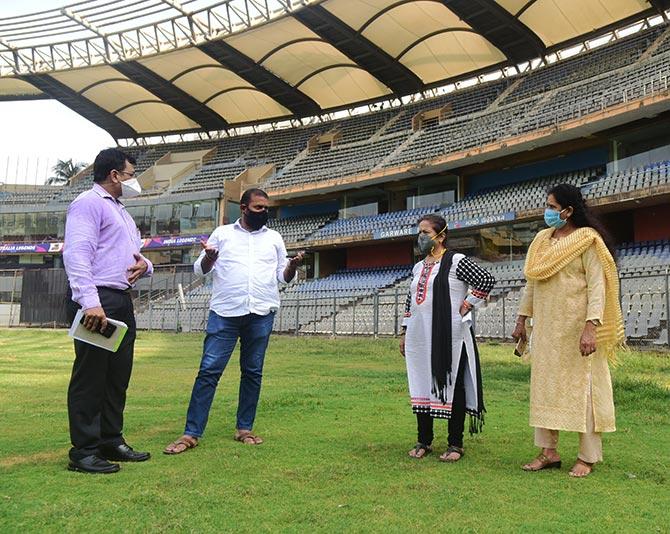 How is Mumbai doing compared to Thane and Kalyan and other areas in the greater Mumbai region?
In Mumbai the mortality rate was reaching a percentage of almost 8 plus in about April.
But now over the last one month, we have come down -- we have drastically controlled mortality-- and we are now about 3.7 to 3.9 per cent.
This is a very positive side according to me.
Thane has more cases, but less deaths.
Areas like Raigad, Palghar, sometimes, in some pockets, there are deaths. Cases may be there, but death rates are similar, 3 to 4 per cent, not really high.
Mainly these deaths are because people are coming to Mumbai and going back.
Many hospitals and many areas in Mumbai have people working in essential services.
They stay in Kalyan, Dombivili, Thane, Vasai Virar...
These are the people who have to be careful (every time they go home) either maintain social distancing, washing and all those kinds of things.
Because that is where the spread is occurring.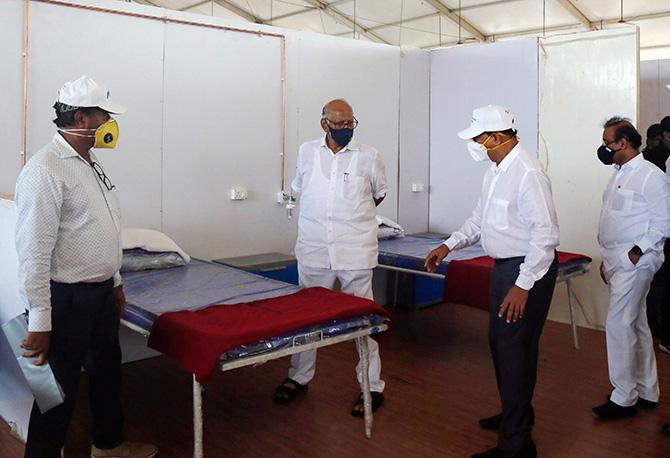 While investigating COVID-19 deaths, you stated earlier that 76 to 77 per cent of these statistics had some kind of a comorbidity like diabetes, hypertension, cardiovascular diseases and a few patients had cancer.
May I know what percentage of that was due to diabetes?
Around 40 per cent.
Is it true, that among the people suffering diabetes, even younger sufferers in their 40s and early 50s are at high risk?
What are the best precautions they can take?
Yes, young diabetics, hypertensives (those with high blood pressure) are also at risk.
They should be careful while resuming work.
Masks, social distancing, washing hands, sanitisers, avoid tobacco or pan or smoking.
Sixty-five per cent of the deaths were males, you said.
And that some doctors had died.
Were there any deaths of transsexuals?
Approximately, how many doctors have died?
No, transsexuals.
One doctor from Mankhurd died.
Many doctors are admitted and affected.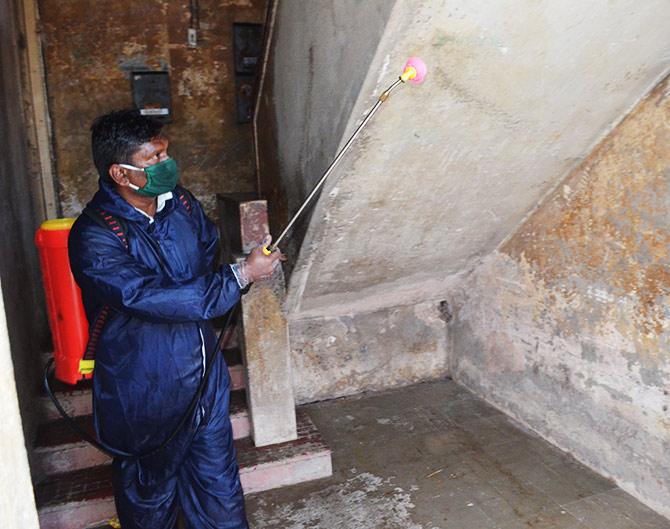 When I interviewed Dr O C Abraham, who advises the Indian Council of Medical Research (ICMR), New Delhi, he spoke about the fog that initially surrounds a pandemic and how deaths seem much higher at first, as has happened in other viral outbreaks, like swine flu.
And one has to distinguish if a patient died of coronavirus or with coronavirus?
Possibly.
Deaths can be COVID-related, because of COVID, or associated deaths.
You have to really look at it that way.
Some swine flu deaths are also seen still today.
SARI (Severe Acute Respiratory Syndrome) deaths too.
All these are seen simultaneously.
Somebody needs to look at this carefully.
And they are looking at it.
They are currently testing patients.
If there is a SARI death, they are keeping a record of that.
The number of deaths has not gone up so drastically in Mumbai, though deaths have occurred.
Maybe one reason is because of the lockdown the road accidents and railway accidents are practically reduced (to zero).
So, we save almost about 30 deaths every day.
In fact, the number of deaths had gone down in Mumbai (initially), if you consider that.
That is very important.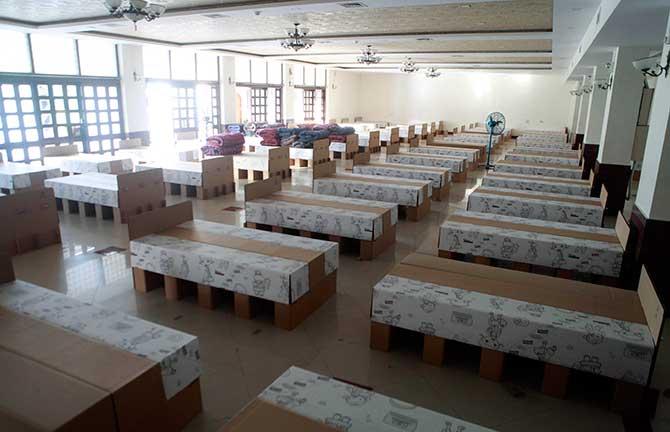 There are reports about the delay in patients finding beds when they go to the city's public hospitals.
What exactly is happening at ground level?
The media has its opinions.
But the government has done a lot of good things, I think.
In Mumbai, the disaster management cell is headed by Mr (Mahesh) Narvekar (head of the BMC's disaster management control room) and city and state level war rooms have been created.
If you really see, they have made a lot of arrangements; at every level arrangements have been made.
They have developed a lot of ambulance services which can pick up patients and take them to hospitals.
Secondly, they are also allocating beds according to the need of the patient.
And the third important aspect is about deaths.
Whenever there are deaths, they are arranging hearses.
There is a set of people who come and take them to the various burial sites.
This arrangement is extremely important at this stage.
I have had many patients call me, actually, for help.
Then I called these agencies and they are very prompt.
My experience is quite good, according to me -- patients transferred from KEM to Sion to Chunabhatti or Kurla or Naigaon.
This has been done quite efficiently in the last 15 days.
The government has gotten geared up.
Maybe in March and in the first weeks of April they took a little time to bring organisation, but now they are very well organised.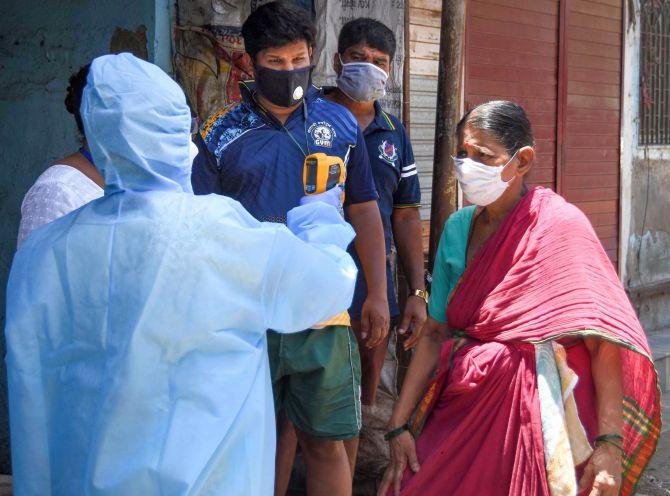 It seems like the Maharashtra government is proceeding very cautiously and very carefully.
The WHO chief for India also appreciated the efforts in Dharavi (Mission Dharavi).
We must thank the commissioners and even the frontline ministers, like the minister of health, they are leading from the front.
That is something which we should appreciate.
It's not that Maharashtra has not taken the right steps at the right time.
Mumbai has its own problem -- Mumbai has 60 per cent of its people in the slums.
As a director (at the KEM hospital) I would to go to every small place.
Every Sunday we would go to the slums of Mumbai for various camps in the monsoon.
We conducted almost about 300 camps every year in the slums of Mumbai.
If you go inside some of these areas -- Jogeshwari, Malad (both in north west Mumbai), Mankhurd (north east Mumbai) -- you realise managing them is so difficult.
One room, where 10 people are staying, common toilets, poor people.
That's where Mumbai faces a problem.
As you said, I have seen cases even in good societies too, among top class people (not facing the problems slums do).
These are the issues we need to keep in mind.
These could be the reasons why Mumbai is taking time to control COVID-19 and Kerala could control it much faster.
Kerala has a lot of educated people and Kerala had previous experience of managing various other pandemics.
Their patterns (strategies) are good and we have followed many of these patterns.
Any positive news, in your view about plasma therapy or this Israeli breakthrough cure?
Everything is, I understand, very experimental at the moment.
A lot of therapies have been tried.
Plasma therapy has been tried in Mumbai, in some of the hospitals.
There are some positive reports, but we really don't know.
Time will tell us whether this therapy has been useful in Singapore.
Then there is a new medicine from Biocon, which is being tried - there's a trial which is starting.
People have tried antiviral drugs, which have been given for HIV, Lopinavir and all.
People have tried many monoclonal antibodies (development of human monoclonal antibodies or antibodies created by indistinguishable clone immune cells as therapy for COVID-19).
And I don't know about HCQ (hydroxychloroquine), how its activity is.
But that study somebody has to do -- whether people taking it have a lesser degree of the disease.
It may not fully prevent the disease, but they may get a less severe (version of the) disease.
That is what we have to really look at.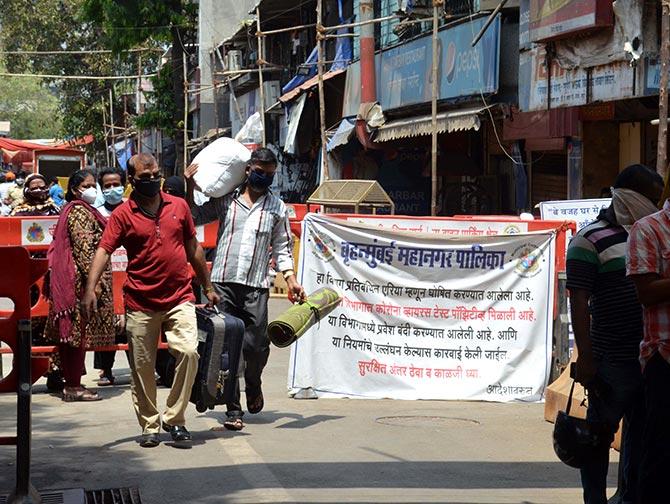 The pattern of spread of COVID-19 in Mumbai is peculiar to the city.
That is how Mumbai is.
But it might be a cycle.
COVID-19 came into Mumbai via people who had travelled abroad and from, well, more well-heeled people.
Then it moved to the slum areas.
Right now, people living in flats and housing societies are, during the lockdown, self isolating and keeping themselves safe.
But eventually can it go back to the flats and housing societies from the slums after the lockdown ends?
The way I look at it, we got probably a strain of the virus from Europe and Dubai.
It must have come from Dubai, but we probably got a European strain, which is a very strong strain.
We had a few patients from China, Wuhan and all, in Kerala, but that was in the initial stages (of the virus and its outbreak).
Later on, what we got was from people who had travelled Europe and Dubai.
Probably it came from international travellers.
And then, as you rightly said, it went to the slums.
Will it come back to the elite classes? It can happen.
But also remember you might have somebody working in a hospital now from Dharavi or nursing aides working in Dharavi.
There will be contacts and transmission (between different types of areas).
These kinds of things are bound to happen (no matter) how you try to control it.
In a lockdown you may have some control.
Once you open a lockdown, that kind of transmission will occur.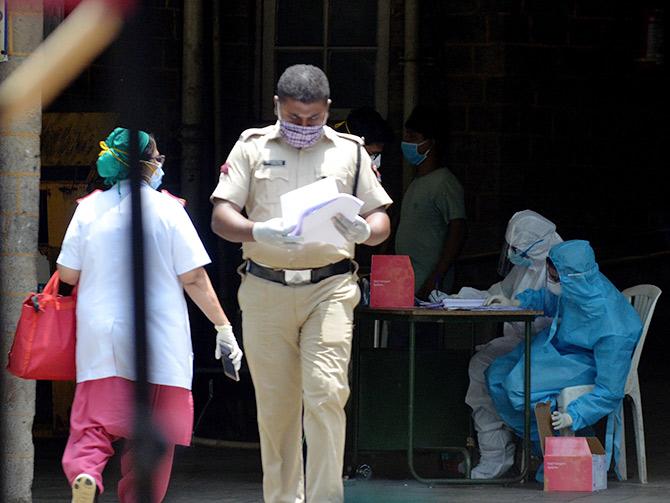 We spoke about the need for a sort of social revolution.
But the social revolution has to be broad and effective.
What all of us have to realise is that we have to really start thinking and living in a new normal for a few years.
That is something which we have to do.
For example, when HIV came in 1986, to India, all of us changed the way we treated our serious patients and emergency patients.
We started using gloves.
We started using kits.
We started taking care.
A new normal was established in the health industry,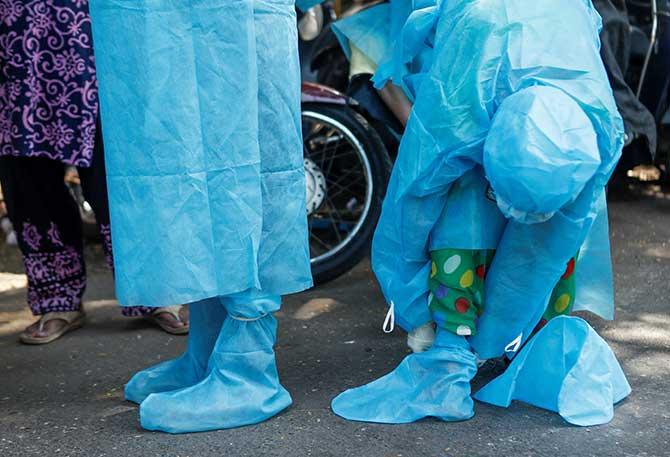 And in society too because the patterns of sexual relations changed, as well.
Yes. But, fortunately, if you really see HIV was transferred through sexual relationship and kissing (open-mouth kissing if there is a chance of open sores in the mouth).
But rarely by hand touch.
Now COVID-19 is transferred just by touching of the hand.
So the social revolution has to occur till the time we get a vaccination or the virus mutates and it becomes a little lower (less harmful) strain.
And then everybody suffers and get herd immunity.
The way it's going, it is going to be a little longer struggle than one or two months.
It will be a year-long struggle.
We have to be prepared for this new normal, if we open up the lockdown.
Production: Ashish Narsale/Rediff.com