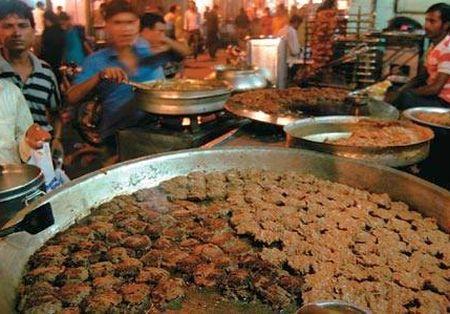 It's all gone quiet in Lucknow's iconic Tunday Kababi which was once flooded with patrons seeking out their melt-in-the-mouth Galawati Kababs.
Ever since its inception in 1897, the eatery's prized and well-guarded Kabab recipe, that is said to require around 150 spices to prepare, used buffalo meat as its base.
But the ban on illegal slaughterhouses by the new Bharatiya Janata Party government in Uttar Pradesh has left the owners with no choice but to make a drastic change in their signature dish for the first time in 120 years -- replacing buffalo meat with the costlier chicken and mutton.
The result? A nearly 80 per cent drop in footfall.
It is the same story for another over-century old eatery, Rahim's, which too had to switch to chicken and mutton for their trademark 'Nihari' and 'Pasanda', dishes usually made of buffalo meat.
Slaughterhouses allegedly running illegally have been closed down across the state, drying up the flow of buffalo meat required by the likes of the Tunday Kababis and Rahims.
The move has affected the business of these outlets by around 80 to 90 per cent, the owners say.
"It is all quiet here, the occupancy of the outlet has been reduced to only 10 per cent now. Not all can afford the cost of the mutton and chicken kebabs," says Abu Bakar of Tunday Kababis.
The owners were forced to pull the shutters down on their outlets across the city for few hours on Wednesday till they decided to bring about the fundamental change in their menu.
Most of the authentic Awadhi and non-vegetarian eateries dotting the state capital have hiked the prices of their offerings.
The cost of raw mutton and chicken in the markets has also gone up after the closure of slaughterhouses.
Haji Bilal Ahmed of Rahim's says dishes like Pasanda and Nihari were a big draw among the poorer sections due to the lower price of the base ingredient, buffalo meat.
"This was the cheapest food for the locals. Who will eat costly items made of chicken and mutton? This has affected 80 per cent of the sale," he says.
Both Bakar and Ahmed said that the government should take steps to adress the problem and find a way out.
"If required, streamline the licencing process of slaughterhouses or else it will lead to closure of the business eventually," they say.