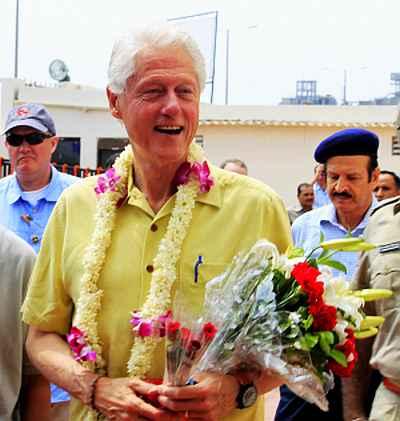 Officials of the Akhilesh Yadav government are working overtime to spruce up an otherwise sleepy Jhabrauli village on the outskirts of Lucknow which is awaiting a visit by former United States president Bill Clinton on Thursday.
About 30 km off the town, Jhabrauli was among the few villages taken up by the Clinton Foundation under which several women self-help groups have been formed as a part of a women empowerment programme.
The Clinton Foundation is also engaged in carrying out special child health programmes under what is known as Clinton Health Access Initiatives. A major component was handling of diarrhoea which is among the largest killers of children, particularly in rural India.

Hectic preparations were afoot to give the village a facelift before the former US president's visit. While the state public works department was busy giving a newly paved road a final finish, a couple of garbage removal trolleys were on the job to clear the clogged drains.
Clinton is expected to spend about two hours in the village. Apart from interacting with the women self-help groups, he would also hold a meeting with his volunteers engaged in carrying out the foundation mission.

Image: After his visit to Jaipur, Bill Clinton's next stop will be Uttar Pradesh. Photograph: PTI