Waiting to be reinstated as a member of Parliament after his disqualification following conviction in a criminal case, Nationalist Congress Party leader Mohammed Faizal on Friday said the Lok Sabha secretariat was very quick to disqualify, as in his and Congress leader Rahul Gandhi's case, but very slow to reinstate.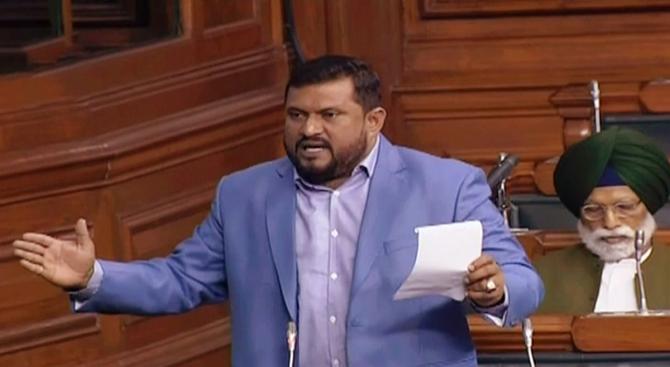 Faizal stood disqualified from the membership of the Lok Sabha from January 11, the date of his conviction by a sessions court in Kavaratti, according to a notification issued on January 13 by the Lok Sabha Secretariat.
Later, the Kerala high court on January 25 suspended Faizal's conviction, saying that not doing so would result in fresh elections for his vacant seat which would impose an immense financial burden on the government and the public.
However, despite the Kerala HC order and a subsequent law ministry recommendation that he be reinstated, the LS secretariat is yet to issue an order reinstating him, Faizal said.
The former MP is yet to be allowed inside the Lok Sabha despite his conviction being suspended by the Kerala high court.
"The Lok Sabha secretariat without a hitch is quick to disqualify. But they take their own time where reinstatement is concerned, even when the legal position is clear.
"Look at how quick they were to disqualify Rahul Gandhi. His conviction and sentencing were barely 24 hours ago," he told PTI.
Faizal said Gandhi would now have to move the high court in Gujarat to suspend his conviction and if no relief was available from there, then move the Supreme Court.
"He (Gandhi) will have to walk the same route as me," the NCP leader said, adding that he himself was gearing up to move the apex court against the inordinate and inexplicable delay by the LS secretariat in reinstating him.
"They have been sitting on the file for nearly two months now without a reason. Whenever I make enquiries, they say they will do it shortly. I cannot keep waiting like this. I already lost one session.
"I have no option but to move the court," he said.
Gandhi was convicted and sentenced to two years in jail by a Surat court on Wednesday in a 2019 criminal defamation case over his "Modi surname" remark.
A day later, the LS Secretariat in a notification said that his disqualification was effective from March 23 -- the day of his conviction.
The Supreme Court in a 2013 verdict said that any MP or MLA stands disqualified from the time of his conviction if a sentence of two or more years is pronounced.