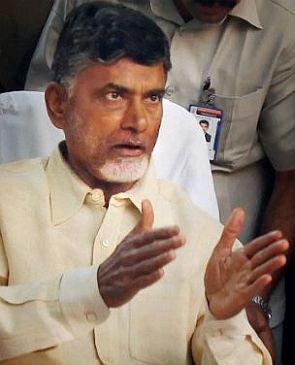 Even as Bharatiya Janata Party's prime ministerial candidate commences his Telangana campaign on Tuesday, there is still no concrete word from Chandrababu Naidu on whether he would withdraw the three TDP candidates he has pitched against his ally BJP.
Naidu does not look like he would withdraw those candidates immediately, and when questioned he said it would be a friendly fight.
Many in the BJP had raised objections over the three TDP candidates being fielded from Santanutalapadu, Kadapa and Kaikalur.
Narendra Modi had even gone to the extent of saying that Naidu need not be part of the National Democratic Alliance meet in Hyderabad on Tuesday if the candidates are not withdrawn.
However, now it appears that the Naidu along with Pawan Kalyan would be part of the meet at the LB stadium in Hyderabad. For Naidu withdrawing these candidates would be slightly tough since he is facing a rebellion from many quarters in his party over his alliance with the BJP.
As per the arrangement, Naidu had given Santanutalapadu, Kadapa and Kaikalur to the BJP, but also went on to issue B forms for his candidates who filed their nominations from the same constituency.
Naidu, however, makes it clear that there is nothing to worry and this would be a friendly fight. What he means is that there would not be any negative campaigning against each other and both would fight the elections as one although the analysts would point out that it is not making much sense since the two parties are alliance partners.
However, there is a lot of expectation from Narendra Modi who will address four rallies in Telangana on Tuesday. This is the first time he is in the region after the election dates were announced and the BJP is expecting the world out of him.
His biggest task would be to take the advantage away from the Congress and the Telangana Rashtra Samithi who have been claiming the legacy over Telangana. However, Modi will also have to bear in mind his alliance partner which relies a lot on Seema-Andhra. Anything in excess on the Telangana issue could cost the TDP in Seema-Andhra, many feel.
Modi will first address a rally in Mahboobnagar which would be followed by events in Karimnagar and Nizamabad. He would then proceed to Hyderabad to address the NDA meet.