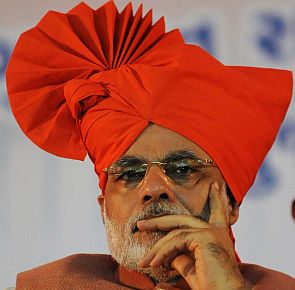 The already-strained ties Bharatiya Janata Party and the Telugu Desam Party faced a new blow after Narendra Modi issued an ultimatum to the TDP, directing him to withdraw three of his candidates who are facing off against their alliance partners in the Seemandhra-Andhra region.
Modi has reportedly told TDP chief Chandrababu Naidu to withdraw the nomination of three candidates by the end of today or else the rally in Hyderabad on Tuesday would not be a joint rally.
As per schedule, Modi was to address four rallies in Telangana on Tuesday. While he would be addressing the rallies at Karimnagar, Nizambad and Mahboobnagar individually, the rally at the Lal Bahadur Shastri stadium in Hyderabad was also going to feature Naidu.
The issue arose after the TDP defied its seat-sharing arrangement with the BJP and fielded candidates against the BJP at Santanutalapadu, Kadapa and Kaikalur. Following their nominations, the BJP raised a hue and cry with the party leadership calling Naidu's act a bad precedent. One BJP leader was quoted as saying, "It will have a bad impact when despite an alliance candidates fight each other."
But, according to sources, Naidu's absence at the rally would be a boon to both the parties. A source said, "It would benefit the BJP in Telangana and the TDP in Seema-Andhra. Being seen with Naidu in Telangana would affect the alliance negatively, as Naidu is seen as an anti-Telangana man."
On the other hand, the TDP feels that voters in Seema-Andhra would not like to see Naidu at a BJP rally, as the party had supported the bifurcation.