‎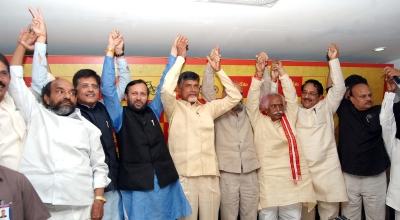 After stating openly that the Telugu Desam Party would fight the elections without the Bharatiya Janata Party in Seemandhra, TDP supremo Chandrababu Naidu has now agreed to keep the alliance alive.
BJP's national spokesperson Prakash Javadekar who met Naidu at his residence in Hyderabad said that the latter has agreed to be part of the alliance.
However, both parties did not spell out clearly what the deal between the two was. Naidu had raised objections about some BJP candidates. Moreover, actor-turned-politician Chiranjeevi's brother Pawan Kalyan had also threatened to field his own candidates if his demands were not met.
"Talks would continue about these issues," said a source. The last date to file nominations is on Saturday and it would become clear who the BJP has replaced at Naidu's insistence.
Image: (From left) BJP's national treasurer Piyush Goyal, BJP national spokesperson Prakash Javadekar with TDP chief Chandrababu Naidu and other leaders in Hyderabad. Photograph: SnapsIndia