Congress says K Chandrashekhar Rao backstabbed it; Chandrababu Naidu detests him.

Aditi Phadnis on why the Telangana Rashtra Samiti chief is universally disliked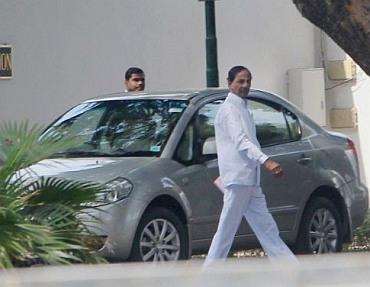 Telangana is agog with stories about the fun-loving chief of the Telangana Rashtra Samiti, K Chandrashekhar Rao. Only rare politicians get as many brickbats.
"He is a back-stabber," said Congress Vice-President Rahul Gandhi at a rally in Hyderabad last week about an erstwhile ally.

"He pretended to embrace me and slid a knife in my back."

Sonia Gandhi was no kinder.

"TRS chief did not fulfil his promises, he cheated the Congress. TRS doesn't want Telangana's progress, it wants power," she said, while addressing a rally in Andole, Andhra Pradesh.

The crowd threw stones, tomatoes and eggs at Congress leader Chiranjeevi when he called Narendra Modi Hitler. No one said a word when the Congress launched a frontal attack on KCR.
Sonia Gandhi, in fact, went a step ahead and warned voters that KCR would align with communal forces.

"We are not seeing the opportunistic face of the TRS for the first time. It is suffering from the same disease as the BJP. It will align with the BJP if it sees power on the horizon," Sonia Gandhi said. The crowd, apparently agreeing with her, cheered wildly.
Complete Coverage: Lok Sabha Election 2014
So, who is this man and why is he universally disliked?

Rao was in the Telugu Desam Party and an MLA for four terms. In 1999, he was close to getting a ministership but was pipped to the post by fellow Vellama, former CBI director Vijaya Rama Rao, who contested the 1999 elections and became an MLA.
"KCR might not have taken up the cudgels on behalf of Telangana if he had become a minister. Anyhow, he left the party to form the TRS in 2001, ostensibly to right the wrongs done to Telangana all these years," said a bureaucrat from the Andhra Pradesh cadre.
KCR set up the TRS in the winter of 2001.

In the summer of 2001, Andhra Pradesh had local body elections.

The TRS took off so strongly that the TDP got only 10 of the 20 Zilla Parishads, despite a triangular fight. Realising its potential, the Congress quickly did a deal with the TRS for the 2004 Lok Sabha elections.
KCR and the then Congress Chief Minister Y S Rajasekhara Reddy, detested each other.

So, KCR launched a movement for Telangana and withdrew from the United Progressive Alliance. But the party did really badly at the hustings after that -- until the death of YSR and the announcement that the state was being divided.
KCR is not an easy man to get on with.

At least half a dozen of his colleagues who had joined with him have threatened to walk out from the TRS because of his arrogance.

Four members of his family are contesting the elections: His son, K T Rama Rao, who was the MLA from Sircilla, nephew T Harish Rao, who was the MLA from Siddipet, and a daughter who heads Telangana Jagruthi, a cultural organisation.
An IAS officer's comment was succint. "Useless fellow," he said briefly when asked what KCR was like to work with.

For KCR, it is all water off a duck's back.

Interestingly, he has not really responded to the Congress charge. For him, the primary enemy is the TDP.

"Chandrababu Naidu says he won't go from here. Why? What work does he have here?," he asked, clearly a jibe at people from coastal Andhra.

Another question: "In Telangana, do we need Chandrababu Naidu's 'Andhra' party? Whoever disagrees, raise your hand and stick to that stand."
This is what is worrying investors.

"We feel if KCR has a predominant position in the new government in the state and can bully the central government, we will be left to his tender mercies. Already there is a lot of extortion by the TRS. How are we going to protect ourselves? This is the biggest worry," said the chief of a top pharma company headquartered at Hyderabad.

Another said the biggest danger to a divided Andhra Pradesh was from the man who helped divide it: KCR.
How many seats the TRS will get is hard to say:

They are strong in some pockets of Telangana and nonexistent in some others. But on this everyone was clear: Don't expect scruples from KCR and the TRS when it comes to forming the government -- as a bureaucrat said -- because "he can do anything".
Complete Coverage: Lok Sabha Election 2014