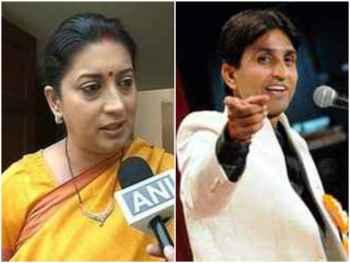 With actor-turned-politician Smriti Irani entering the fray as a Bhartiya Janata Party candidate in Amethi, a war of words has broken out between her and Aam Aadmi Party contender Kumar Vishwas over his remark that any "Irani or Pakistani" will not make any difference in the constituency.
"The message has reached villages. Now whether Irani comes, Pakistani comes, Italian or American... But Amethi has already taken a decision,' Kumar Vishwas has said.
The BJP had on Sunday decided to field Irani to take on Congress vice-president Rahul Gandhi in Amethi.
Vishwas charged that there was some understanding between the BJP and Congress in the Varanasi and Amethi seats.
"I think BJP is doing either some face saving or some nexus, may have been through Ahmed (Patel) uncle that you give us in Varanasi, we will give you in Amethi," he said
Reacting to the jibe, Irani said, "The understanding between AAP and Congress is publicly known and was very visible when they formed a government in Delhi."
Taking on the AAP candidate, she said, "As far as Vishwas is concerned, I do not expect an iota of respect from him, especially being a woman. He has a history of being disrespectful towards women. That has been topic of conversation in many a channel."
"In terms of calling me an Irani or a Pakistani, I am sure his general knowledge is quite reduced to when he comes to my own personal background. I do not know whether Vishwas wants to fight the elections on issues of development. I will only say that the contest is between Congress and BJP and not between any B team of the Congress party," she said.
After the party announced her nomination, Irani had said Sunday night, "In the name of the 'family', the people of Amethi have been kept away from the fruits of development for too long. I think it is an extreme shame."
She had said that a change will brought about in the country under the leadership of Narendra Modi.
Image: BJP's Smriti Irani and AAP's Kumar Vishwas