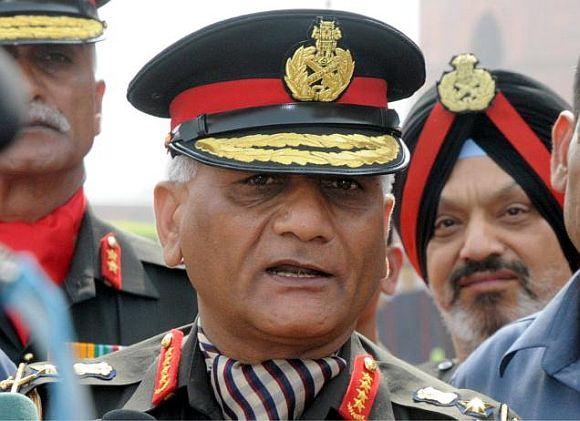 Moments after Anna Hazare skipped a public meeting addressed by Trinamool Congress chief Mamata Banerjee, former army chief Gen V K Singh on Wednesday met him triggering speculation that the anti-corruption crusader could have been wooed by the Bharatiya Janata Party.
Singh, who was earlier associated with Hazare and recently joined the BJP, sought to downplay the meeting saying it was a courtesy call and there was no politics behind it. He said that he meets Hazare whenever he comes to Delhi. However, when asked by reporters, he maintained that if Hazare's principles allow, he may campaign for him.
"Can't I meet him without any purpose? He is unwell. Every time he comes to Delhi, we meet. He is here so I came to meet him," Singh said. Meanwhile, when asked if BJP was cozying up to Hazare, party spokesperson Shahnawaz Hussain said one should not see politics when two patriots meet.
"Gen V K Singh is a patriot and so is Anna. When two patriots meet, one should not see politics in that," he told mediapersons. He also said that Singh was a former army chief and was free to meet anyone at a personal level.
On Banerjee's speech, Singh said, "I do not know what Mamataji is saying," Singh said.
Hazare, who was scheduled to share dais with Banerjee, skipped the rally citing health problems. The rally was billed to be a platform to launch Banerjee's national ambitions.