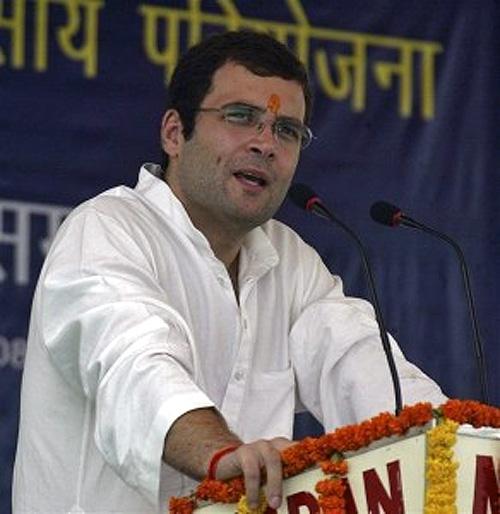 Bharatiya Janata Party President Rajnath Singh on Monday asked Congress Vice-President Rahul Gandhi to take back his "baseless" allegation of involvement of Rashtriya Swayamsevak Sangh in the assassination of Mahatma Gandhi.
"Rahul had levelled the allegation against the world's largest socio-cultural organisation saying RSS men were behind the assassination of Mahatma Gandhi. The fact is that the Kapoor Commission, which probed Gandhi's assassination, had stated in its report that the allegations against RSS on the issue were totally baseless," Rajnath said while addressing party workers at parliamentary area meet on Dussehra ground in Indore.
Taking a dig, he asked Congressmen to study history to know the correct facts.
"After the assassination of Mahatma Gandhi, the then government had imposed a ban on the RSS but within six months the Congress admitted that the RSS had no role in the Mahatma's killing and all allegations levelled against the RSS on the issue are baseless," he said.
"I urge the Congress leaders to request their vice-president to take back the baseless allegations levelled by him against the RSS on the issue," Rajnath said.
Addressing a rally in Thane district of Maharashtra on March 6, Rahul had said, "The RSS people killed Gandhiji and today their people (BJP) talk of him... They opposed Sardar Patel and Gandhiji."
The BJP has already moved the Election Commission against Rahul over his remarks.
Meanwhile, Rajnath also asked the Centre to make public the report of the commission that probed the assassination of then PM Indira Gandhi in 1984.
"I wanted to know under what conditions this report was not made public. I demand from the prime minister and the Congress leadership to make this report public so that people will come to know the circumstances behind the assassination of Indira Gandhi," Rajnath said.
Rajnath charged the Congress has lost dignity and also control over words.
"Congress President Sonia Gandhi's remark of zeher ki kheti (sowing seeds of poison) is symptomatic of state of depression in Congress and because of this Sonia sometimes terms BJP poisonous and sometimes a thief."

Image: Congress Vice President Rahul Gandhi