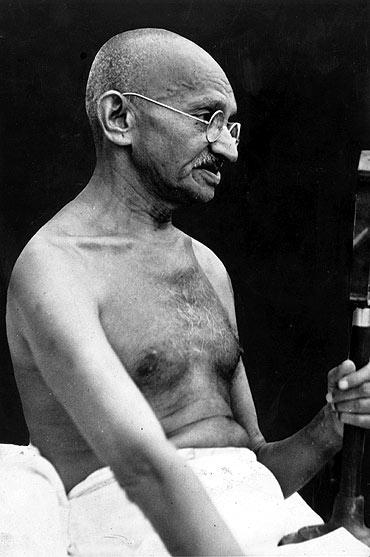 Stung by Rahul Gandhi linking it with the murder of Mahatma Gandhi, the Rashtriya Swayamsevak Sangh on Friday filed a complaint with Karnataka electoral authorities for his "malicious remarks", saying it violated the model code of conduct.
"We have filed the complaint with the Karnataka Chief Electoral Officer against Rahul Gandhi for his malicious remarks that RSS people had shot Mahatma Gandhi dead," RSS Spokesperson Ram Madhav told media persons in Bangalore.

Gandhi's statement was made deliberately with "ulterior political motive", Madhav said after lodging the complaint with Chief Electoral Officer Anil Kumar Jha.
He also said by making such an "offending" remark in a predominantly Muslim area of Bhiwandi, Gandhi had sent a message to Muslims that RSS got Gandhi killed, thereby hinting that it might do the same to them also.
Madhav said Gandhi had also made several "false, unverified and unfounded" allegations against the RSS and his utterances amounted to an activity which may aggravate differences and create mutual hatred between the Hindus and Muslims and other groups.
He said RSS has taken a serious note of the "malicious and politically motivated" false propaganda by Gandhi and told the electoral authorities that his remarks were in gross violation of the model code of conduct.

Madhav urged the Election Commission to take appropriate action in accordance with the law and prevent such violations by the concerned leaders and the party in the future.
He also said the RSS would in next two days initiate legal action against Gandhi.
Addressing a rally in Thane district of Maharashtra, Gandhi had alleged that it was "RSS people" who had killed Mahatma Gandhi.
"RSS people killed Gandhiji and today their people (BJP) talk of him... They opposed Sardar Patel and Gandhiji," Gandhi had said in his speech.