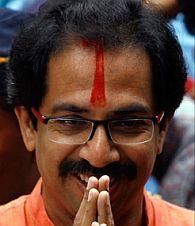 Seeking to downplay speculation that it was reviewing its alliance with the Bharatiya Janata Party, the Shiv Sena on Tuesday said the bond between the two parties was "strong" and there was need for worry.
The Sena made its stand clear in the wake of speculation that the party may review its longstanding alliance with the BJP after arch rival Maharashtra Navnirman Sena declared that it would challenge the Sena in all seats in the Lok Sabha polls, but will support Narendra Modi's candidacy as prime minister.
An editorial in the Shiv Sena mouthpiece Saamana said on Tuesday, "The alliance between the Shiv Sena and the BJP is the oldest in the country... nobody needs to worry, it is strong... The BJP and Shiv Sena came together to strengthen Hindutva."
In a related development Maharashtra BJP chief Devendra Fadnavis met Sena leader Uddhav Thackeray in Mumbai. "I conveyed to Uddhavji that the BJP considers Sena its natural and trusted ally," Fadnavis said after the meet at Uddhav's residence Matoshree in suburban Bandra.
"BJP cadres will work only for mahayuti (the five-party grand opposition alliance led by the Sena-BJP)," he added.
The MNS is an offshoot of the Shiv Sena, headed by Uddhav's cousin Raj Thackeray. The two parties have fought bitterly for largely the same constituency in the last few elections, which has helped the rival Congress-Nationalist Congress Party combine become stronger in the state.
BJP leader Nitin Gadkari had recently met Raj Thackeray in Mumbai, to suggest that the MNS not contest the general elections to avoid dividing opposition votes.

Image: Shiv Sena President Uddhav Thackeray