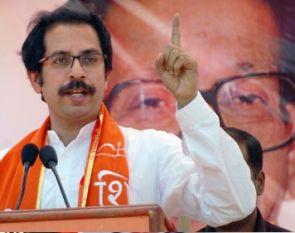 Sena President Uddhav Thackeray who is said to be upset over the recent meeting between MNS chief Raj Thackeray and Nitin Gadkari, on Wednesday ruled out the possible inclusion of any new players in the 'Mahayuti' (grand alliance) even as he took a dig at the former BJP chief by calling him an "apt businessman".
"There is a good mood in 'Mahayuti' (grand alliance of BJP-Shiv Sena-Republican Party of India-Revolutionary Socialist Party-Swabhimani Shetkari Sanghatana). Party cadres have started working hard. Therefore, people should not feel confused (over the meeting between Raj and Gadkari)," he told reporters at his residence 'Matoshri'.
"The issue of forming an alliance with new parties is closed for us. The election programme has been announced. The battle has begun. We will only win this battle," he said adding that he would be soon meeting the senior BJP leader.
Uddhav, who has been sulking since the meeting, attacked Gadkari in his party mouthpiece 'Saamana', saying that he is an apt businessman-leader who has inked a deal with Raj.
"Gadkari is so skilled that without offering any 'dakshina' (money offered for one's services) to the MNS chief, he has sought his support.
"There is no doubt in the mind of the people of Maharashtra that Gadkari is an apt businessman. In the field of politics also, he has developed a skill to get whatever he wants without investing any capital," Uddhav was quoted as saying in 'Saamana'.
Gadkari, who enjoys a good rapport with Raj had met him at a suburban five-star hotel two days back, triggering speculation that BJP was trying to win over the MNS chief into NDA for upcoming elections even as he said there was no reason for Shiv Sena to be annoyed by his meeting with Raj.
Image: Shiv Sena President Uddhav Thackeray