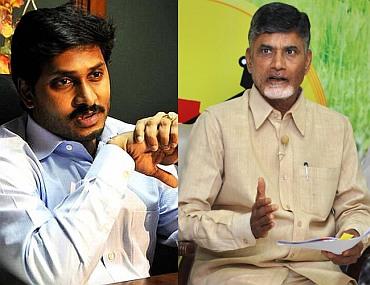 Lok Sabha and assembly polls on May 7 in Seemandhra seem to have narrowed down to a N Chandrababu Naidu versus Y S Jaganmohan Reddy fight, with the TDP chief seeking a comeback while the YSRC supremo is looking to expand his party's footprint in the political arena.
Reflecting the national pattern of general elections being a Narendra Modi versus Rahul Gandhi fight, Seemandhra -- which represents regions of Rayalaseema and Coastal Andhra -- is witnessing a direct battle of personalities with respective parties having taken a back seat in the run-up to the polls.
Post bifurcation, the two "chief minister hopefuls" are projecting themselves as the lone constructive leader in rebuilding residual Andhra Pradesh.
Complete Coverage: Lok Sabha Election 2014
While Naidu is seeking a sixth straight term from Kuppam assembly seat, which he has been winning since 1989, Jaganmohan is contesting from Pulivendla assembly segment.
TDP spokesperson Kodela Shiva Prasad Rao, also a close aide of the party chief, admits that the election scenario in Seemandhra region has become a virtual fight between Naidu and Jaganmohan.
"People believe that Andhra Pradesh can only prosper under Naidu and his contributions to Hyderabad stand as a classic example," he says.
Congress and its leaders are understood to be facing a tough time in Seemandhra as many locals term "unilateral" the division of Andhra Pradesh by the ruling party at the Centre.

A total of 333 candidates are in the fray for 25 Lok Sabha seats and 2,243 for 175 assembly seats in Seemandhra.
The 64-year-old Naidu, a former chief minister of Andhra Pradesh, is credited with bringing in global IT giants to set up shop in Hyderabad while Jaganmohan, 41, is seen as carving out his own niche even as he seeks to continue his father and former Chief Minister Y S Rajasekhara Reddy's legacy.
Political observers say this clash of personalities is a marked departure in a state where the stature and clout of candidates in every constituency earlier mattered, apart from their political affiliations.
Both the influential leaders have taken digs at each other on various counts ranging from corruption to false promises and their role in the 'division' of Andhra Pradesh.

Raking up corruption charges against the YSR Congress chief, Naidu says CBI officials confiscated Jaganmohan's alleged illegally-earned property.

"If you vote for YSR Congress Party, the situation will become worse," he tells voters.
Hitting back at Naidu, Jaganmohan accuses the TDP leader of making false and impracticable promises. He also charges Naidu with joining hands with Congress President Sonia Gandhi to divide the state.
Seemandhra is witnessing such an election for the first time in its chequered history where regional parties have become the main players while Congress, which has ruled the state for several decades, is now faced with the daunting task of winning seats.

On the other hand, Mekapati Rajamohan Reddy, the only other MP who was elected on a YSRC ticket to Lok Sabha along with his leader Jaganmohan, claims that voters have faith only in their party and dismissed any wave in favour of Naidu.

In the Lok Sabha by-elections here in 2011, after he quit Congress and resigned as the party's MP, Jaganmohan won the Kadapa seat by a staggering margin of more than five lakh votes as the candidate for his new outfit. Jaganmohan is contesting assembly polls, his first ever, from Pulivendla -- a family stronghold.
Complete Coverage: Lok Sabha Election 2014