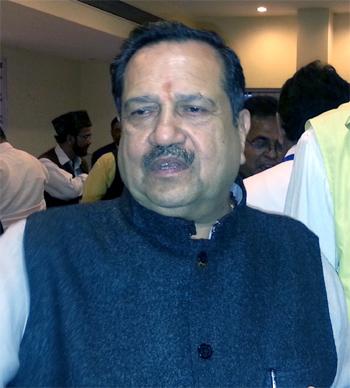 In an exclusive interview to CNN-IBN, Rashtriya Swayam Sevak leader Indresh Kumar says that Bharatiya Janata Party's prime ministerial candidate Narendra Modi is like former Prime Minister Atal Bihari Vajpayee, and compares them to Subhash Chandra Bose and Mahatma Gandhi.
Kumar also admits for the first time that the RSS is running the BJP campaign in Uttar Pradesh to ensure high voter turnout. "Yes, we are managing the election campaign in UP to ensure there is 100 per cent voting. The BJP's UP election in-charge Amit Shah may be the face of the campaign, but we are working on the ground to ensure people make the right choice," he said.
UP's political campaigning and your role in UP as in view with Shah being the wielder of the campaigns
As per the political and general view, Shah and the BJP team are supervising the campaigns. However, the RSS had a view that if there is a hundred per cent voter turnout, then a healthy people's rule can develop. They had welcomed all the volunteers so they could sensitise the public for voting.
Special Coverage: Election 2014
India is varied in terms of caste, creed and language. UP has had a role in the PM's election before, but this time the difference will be from bad to good rule and from bad to good governance.
Is RSS the only sensitiser in these elections?
No, it cannot be indicated directly, but it's clear that the Sangh has objectified to sensitise the voters and for a good voter turnout.
Is RSS handling the polling booth management?
When we clearly want a good voter turnout, we will have to reach the people. In political terms, you may call it booth management, but we call it reaching out to the voters.
So Shah is only the face of the guiding process?
We do not give significance for individuals in the Sangh; we work as a group. So a person's specific position has no place. In political view, Shah might be the guide. We don't have that political view because even before elections, in elections and after the elections, we are in cultural organisations.
Whose veto was involved in selecting Modi?
No one's veto was involved. Veto was that of the people but the RSS' collective opinion was that Modi is the best.
But L K Advani was against him
Advani's opinion was not against Modi. His dispute was about the time when the decision must be taken; before the assembly election or after.
Advani and his supporters were also against Modi
Modi has been Advani's choice since the beginning. He had himself approached the Sangh and said Modi is the best candidate. Someone among his supporters might have issues but it does not mean that that individual's opinion is everyone else's.
Advani said he is working for the vested interest in the party. He does not seem united with Modi
He was the one who said that the next election must be fought under the leadership of Modi so it would lead to a welcome change for the society.
Is it not true that the entire campaigning has been for Modi?
No. The BJP unanimously decided that we would fight elections under Modi. Now when we had decided, not abiding by the decision would have been unacceptable.
On difference between Atal, Advani and Modi
All three are of the same ideology -- dedicated towards the nation and want good governance.
Is Modi bigger than Atalji?
There is no bigger or smaller politician. So if a father is a graduate and his son a post-graduate, and someone asks the father, "You are a graduate and your son is a post-graduate, how?" Would you ever find a father who would not want the best for his son? Someone who differentiates between the two leaders has a wrong mentality. Atalji did whatever best he could in the given situations. Modi has his capabilities and he doing what best he can.
Is RSS behind all what happened in eastern UP?
Thos who have this notion are foolish. If I take any name it would be a breach of trust. So I will not name anyone. The Supreme Court has given its decision; your question is disrespecting the SC.
On Sangh not believing in communal politics
The Sangh has never been for a communal society or politics. The Sangh is for nationalism and humanitarian causes.
On Praveen Togadia's statement
In India, everyone has the right to live, to reside, to vote, to prosper. But when some people stand for hardcore actions, harsh language is used. In this nation, nothing can be tackled with hatred, violence or appeasing. Tackling can only be done with humanitarian and nationalist methods.
Should Congress general secretary Digvijaya Singh's personal life controversy be left personal?
Digvijaya Singh is good to four things -- speaking a lot, commenting about patriots, saying untruthful things and saying anything at all. Anyone taking him seriously is unfortunate. Personal and public life are never different. A person's personal life has effects on the public sphere, and vice versa. They must remain one. One life must exist with a vision. If he says he loves someone and does not hide it, I believe it is the biggest betrayal. It was going on since so many years, but when the photo went public, he was forced to admit that.
On Modi vs Digvijaya
It is not a parallel. Modi has not left his wife. That he decided to live his life for society and religion was in mutual consent. You are misleading his wife's position. Like Lakshman and Urmila and Ramkrishna Param Hans and Shardha. What Modi is doing is spirituality.