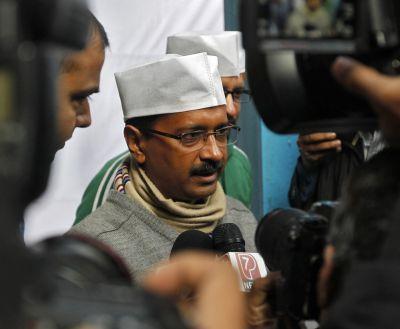 Contesting Priyanka Gandhi's claim that her brother Rahul had done a lot of development in his Lok Sabha constituency Amethi, Aam Aadmi Party leader Arvind Kejriwal on Friday said she was unaware that the Congress vice president had failed to even spend the fund provided to members of Parliament for development in the area.
Addressing an election rally in support of party nominee Kumar Vishwas at Aurangabad village, Kejriwal said Priyanka has been publicising that Rahul brought development in the constituency which is contrary to reality. "Priyanka has said that development is not possible with the amount provided under the Members of Parliament Local Area Development scheme... but in reality Rahul has not even been able to spend his fund," he alleged and asked the Congress star campaigner to reply on this.
Complete Coverage: Election 2014
Alleging that Congress was claiming that Rs 55,000 crore was spent on the development of Amethi, the AAP leader said one could hardly see its impact on the ground. "Was the entire budget usurped by middlemen? Rahul Gandhi must give an account to the people," he said.
Kejriwal added that simply having the Gandhi surname was not enough anymore, as the common man had become more aware. He further alleged that the Congress and the Bharatiya Janata Party opposed each other from the dias, but fielded dummy candidates against prominent leaders during elections. Despite this Narendra Modi from Varanasi and Rahul from Amethi will lose the elections, he said.