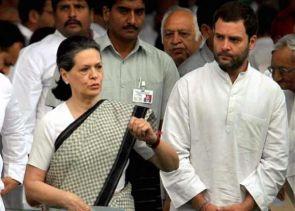 More and more Congressmen are breaking their silence and coming out in the open blaming party vice president Rahul Gandhi for the poll drubbing. Renu Mittal reports.
With Sonia Gandhi likely to be elected as the Congress Parliamentary Party chairperson on Saturday and the party president keen that her son Rahul be made the leader of the House in the Lok Sabha, an impression is gaining ground that nothing is set to change in the Congress.
It is also learnt that Sonia Gandhi will also consult outgoing prime minister Manmohan Singh over who should be the party's leader in the Rajya Sabha and senior leaders say he may even want the post for himself.
With Sonia Gandhi and the party's top leadership protecting Rahul Gandhi and a message going across that she is in no mood for genuine action or introspection but merely intent on papering over the myriad issues which exist in the party, more and more Congressmen are breaking their silence and coming out in the open blaming the Congress vice president for the party's defeat.
This may make her task of nominating him that much more difficult.
Senior Gujarat leader Shanker Sinh Vaghela, the Congress party's whip in the Gujarat assembly, has directly blamed Rahul for the defeat saying he failed to connect with the masses. He said there was no point in blaming Rahul's team as they were handpicked by him. This is the first direct attack on Rahul himself.
Former Union minister Shashi Tharoor has also said that leaders should be allowed to speak openly in the party and voice their views. He said he had himself been asked not to speak.
While the younger leaders are targeting Rahul Gandhi, his style of working and his choice of leaders to handle crucial jobs even as they had no experience, there are other leaders at the state level who are targeting their opponents within the party.
Captain Amrinder Singh, who defeated the BJP high-profile candidate Arun Jaitley from Amritsar, has asked for the resignation of Punjab PCC president Partap Singh Bajwa who himself lost his Lok Sabha election.
Bajwa has served disciplinary action against those MLAs who have been asking for his resignation, further aggravating the rift in the Punjab Congress.
The AICC general secretaries have become mute spectators to the goings on within their state units since they have been left with little or no moral authority to take decisions as the leadership continues to be in a state of inaction.
The general secretaries have either lost their own elections or lost the elections under their charge or both the things, leaving them with little room for manoeuvre, as they also wait, like the rest of the party, for what is to follow.
AICC general secretary C P Joshi lost his own election but also performed badly in Assam, Bihar and West Bengal -- the states under his charge. Gurudas Kamat not only lost his own election but also drew a zero in the states under his charge -- Rajasthan and Gujarat.
Mohan Prakash failed miserably in Maharashtra and Madhya Pradesh while Ambika Soni not only lost her own election from Punjab but also lost in Uttarakhand, Himachal Pradesh and Jammu and Kashmir. Mukul Wasnik lost his own seat, could win nothing in Tamil Nadu and did less than expected in Kerala.
Digvijaya Singh was incharge of Andhra Pradesh, and even after bifurcating the state, the party lost badly both in Telangana and Seemanadhra.
Madhusudan Mistry lost his own seat but also brought the Congress in UP to its knees with only Sonia and Rahul winning from the superlatively significant state. Mistry is under attack as being one of the navratanas of Rahul Gandhi as he selected the candidates all over the country, bypassing many of the screening committees.
Shakeel Ahmed could not win a single seat in Delhi, only one in Haryana and a couple of seats in Punjab.
Ajay Maken lost his own seat and as the party's communication head he failed to either communicate or be an effective spokesman. Before him Janardhan Dwivedi was the media chairman and his USP was that he did not believe in speaking at all. Both Maken and Dwivedi are blaming each other while partymen are blaming both of them.
In the midst of rising anger and frustration with reports coming in that Sonia Gandhi may not affect a spring cleaning operation as it would have to include Rahul, there are voices wanting Priyanka to come into the party in an active role with former minister K V Thomas seeing Indira Gandhi in her. Thomas said she can both connect to the people. His colleague Pallam Raju felt the same.
But Tharoor and Vaghela have different views. They say Priyanka should want to come into active politics and cannot come unwillingly. Tharoor said "it's like giving her an Oscar when she has not even applied for a role".
Congress ally Nationalist Congress Party has blamed their partner even for their own defeat and stated that the confusion within the Congress and the fact that it had lost the support of the people were the reasons behind NCP's poll drubbing.
Even Muslim League, another old and trusted partner of the Congress, has attacked Rahul Gandhi for the party's poor show in Kerala.