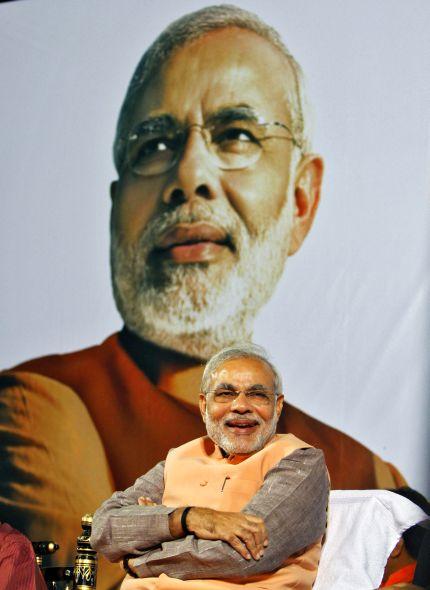 Down-and-out Congress is all set to use 'Modi's doublespeak on CAG reports' and invitation to Nawaz Sharif as weapons to target the prime minister-designate. Renu Mittal reports.
It appears that Prime Minister-designate Narendra Modi is not going to have a honeymoon period as far as the Congress is concerned. Even before he takes oath as the prime minister on May 26, the Congress has launched its first broadside against him on two key issues.
Congress spokesperson Shakeel Ahmed has quoted Narendra Modi's statement made on Wednesday that the reports of Comptroller and Auditor General should not be used to target political opponents.
Ahmed said this is doublespeak and hypocrisy since the BJP did not let Parliament run on the basis of CAG reports -- be it on 2G spectrum, coal allocation, Commonwealth Games, etc. He said that during the election campaign, Modi used to quote from the CAG reports to target the Congress party.
The Congress said that with a CAG report in the offing in Gujarat, "which would list the sins of omission and commission of the Modi government, the prime minister-elect has suddenly realised how the shoe pinches when it's in the other foot".
The Congress also took on Narendra Modi for the invitation to Pakistan Prime Minister Nawaz Sharif to visit New Delhi for his swearing-in ceremony. Ahmed said that if it's just a courtesy visit it's alright but if it includes bilateral discussions it may not be in the interest of India.
The party said that Dr Manmohan Singh had not visited Pakistan nor had he invited the Pakistan premier or president to India, simply because the government had made it clear there cannot be meaningful bilateral dialogue between the two countries till the infrastructure of terror is dismantled by Pakistan .
During his election campaign, Modi had used harsh words to target the Congress-led UPA government, saying "they were eating biryani together when the heads of Indian soldiers were being beheaded". He said that within a week of coming to power, he would bring most wanted terrorist Dawood Ibrahim back to India and act against him.
Meanwhile, Congress leaders also said that in the wake of the attack on the Indian consulate in Afghanistan and on experts' assertion that the hand of Pakistan was behind the attack, it would be interesting to see how Modi dines with Sharif.
A senior Congress leader said the BJP did not allow even their ministers to be introduced and had disrupted the House from day one, so they should not expect the Congress to just sit quietly as a meek opposition.
In review of the tremendous amount of hostility and bad blood generated during the elections, it is obvious that a great deal of bloodletting is on the cards, particularly in the Rajya Sabha where the BJP does not have a majority and would find the going rather tough.