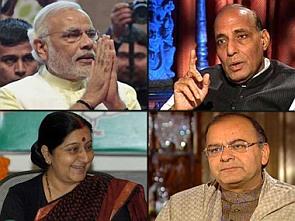 The suspense over the possible composition of the National Democratic Alliance cabinet seems to be nearing climax as sources informed that a list of names is being finalised to be sent to President Pranab Mukherjee on the sidelines of Narendra Modi's swearing-in ceremony.
Coverage: PM NaMo
Rediff.com has learnt from top Bharatiya Janata Party that party chief Rajnath Singh is being strongly considered for the home minister's post.

While rumour mills are abuzz with Modi perhaps opting for a smaller and leaner Cabinet, it will be interesting to see how he accommodates NDA alliance members in his Cabinet.

Signs of hectic lobbying were visible on Sunday when Telugu Desam Party chief Chandrababu Naidu called on Narendra Modi in New Delhi.

Though it was not clear what transpired during the meeting, it was abundantly clear that Naidu could have lobbied for a greater share in the Cabinet pie. Naidu had also held a meeting with Rajnath on Saturday.

Besides Rajnath, others in the reckoning for plum cabinet postings are Sushma Swaraj for the Defence portfolio, Arun Jaitley for Finance and Ravi Shankar Prasad for Law.

Sources told rediff.com that Modi could keep the External Affairs portfolio under him.

Ajit Doval, director of the Intelligence Bureau from 2004 to 2005, is one of the names doing the rounds for the post of National Security Advisor.
Coverage: PM NaMo