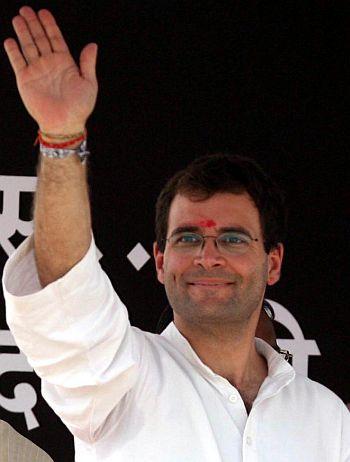 In a blistering attack on Bharatiya Janata Party prime ministerial candidate Narendra Modi, Rahul Gandhi on Monday dubbed the Gujarat model propagated by Modi as a 'toffee model', saying it has only benefited one industrialist in the state, ignoring the interests of farmers and the poor.
He also said that while the BJP talks of empowering women in its election campaign posters, its party activists along with Rashtriya Swayamsevak Sangh cadres beat up women going to pubs in Mangalore, Karnataka. He added that Modi also used his powers and police machinery to tap the phone of a woman.
"Let me tell you about the Gujarat model. Have you heard of LK Advani? Advani, Jaswant Singh have been sidelined. Now, a new neta (leader) has emerged. He is Narendra Modi. Earlier, there was a partnership between Atal Bihari Vajpayee and Advani. Now, there is a partnership between Modi and Adani at an election rally in Latur.
"Land of Aurangabad's size -- 45,000 acre -- has been given for a mere Rs 300 crore. This is a toffee model not Gujarat model. For Re 1, you get a toffee. Land was sold there at Re 1 per square metre. It was the land of the poor and the farmers," he said, attacking Modi's government in the state.
He added that a loan of Rs 10,000 crore was given to build the Nano car, more than what is spent on health and education in Gujarat.
The Congress vice-president also accused the BJP of reproducing the Congress manifesto. "They replaced our party symbol with the lotus," he said, adding that while the Congress had already granted one-rank, one pension-scheme for ex-servicemen, the BJP said it would implement the scheme when it came to power.
"Their manifesto talks of fighting corruption. But it has not suggested any way to tackle graft. We had six bills pending in Parliament to fight graft, but they did not let us pass those," Gandhi added.
Gandhi further slammed the BJP saying that during the 2004 Lok Sabha polls, the BJP spoke of India Shining. But, he did not see Indian villages shining when he was touring the country during those elections.
Earlier in the day, while addressing an election rally in Jagtsinghpur, Odisha, Gandhi also asked the electorate to vote out the Biju Janata Dal government led by Naveen Patnaik, alleging that despite maximum funds allocated by the United Progressive Alliance government, money was not reaching the deprived segments it was meant for.
"The UPA government has plans to set up a manufacturing corridor through which lakh of people can be provided with jobs," he said accusing the BJD of rendering thousands jobless. "This is the time for change. Give rest to the present government in Odisha and bring back the Congress to power to witness real development," added the young leader.
Addressing people at the rally, Gandhi said that though Odisha is rich in resources, the Raghuram Rajan Committee report puts the state at the bottom in the list of backward places. "We want people's money to go back to the pockets of the people and not to select industrial houses," he said adding, "Now-a-days, one can find 'Made in China' tags on most products. Don't you want to see products having tags, which read 'Made in Odisha', 'Made in India?'