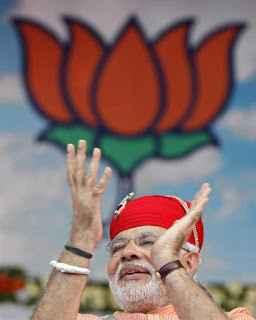 Targeting Rahul Gandhi over his party's alliance with fodder case convict and Rashtriya Janata Dal supremo Lalu Prasad, Narendra Modi on Wednesday asked if the Congress vice president plans to guard the country's resources by allying with leaders accused in scams.
Referring to Gandhi, he said the "shehzade" had said that the country needs its 1.25 crore people to act as watchmen guarding its resources but he was himself relying on tainted leaders.
"And what are the people with whom you have allied. Can those be trusted, the people with whom the Congress has allied, who have just come out of jail," he told a poll meeting in Jhumartaliya in Jharkhand's Koderma district.
Modi said that Rahul Gandhi's watchmen would be Ashok Chavan, whose name had figured in the Adarsh scam and Yadav who had been arrested in a fodder scam case.
"Will these be the watchmen with which you will guard the country?" Modi said.
Prasad, who has been convicted and sentenced to five years imprisonment last year, is on bail and had allied with the Congress both in Bihar and Jharkhand.
Continuing his attack, the BJP's prime ministerial candidate said that he had not yet seen a cat, who could be trusted with guarding milk.
Recalling former prime minister Rajiv Gandhi's famous quote on central funds that only 15 paise of a rupee reached the people, Modi took a swipe at Congress's symbol.
"It's the wonder of the hand," he said.
Modi said while a BJP victory in the elections is a foregone conclusion, people should ensure that the BJP gets 300 seats because a strong government would ensure that countries who act hostile now will change their approach.
When there is a strong government in the country, even big powerful countries like the USA accept it, he said.
He said that for the government at the centre, democracy was on a means to attain power, which was only a limited goal.
Modi said that Jharkhand is the richest state in terms of natural resources but its people were poor. "I will bring the people of the state out of poverty," he said.
Seeking to connect with Jhumritilaya often named on radio programmes during 1960s, 70s and 80s by anchors, Modi said he had been a big fan of 'Binaca Gitmala' and often listened to people belonging to Jhumritilaya requesting their favourite songs to be played on the programme.
"You have contributed much money to the post office by writing postcards," Modi said to claps from the crowd
Appealing for votes for his party, Modi promised to revive the mica industry in Koderma
"If you vote for the BJP, we will make efforts in reviving the mica industry. Police and the forest department are throwing labourers in jail on the pretext of illegal mica mining, little realising that it is their bread and butter," he said.