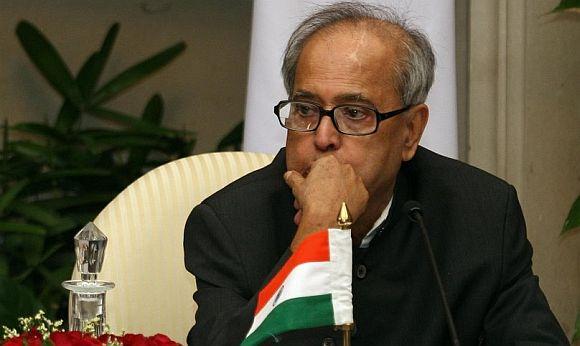 Preparations are on a war footing at Rashtrapati Bhavan in anticipation of the formation of a new government next month. President Pranab Mukherjee has already completed two rounds of reading his predecessors' judgments and interactions with Constitutional experts.
President Pranab Mukherjee has been studying the decisions of his predecessors -- K R Narayanan, Shankar Dayal Sharma and R Venkataraman -- regarding formation of Union governments.
President Mukherjee has kept these decisions as set rules and practices, which might come in handy when he installs the new government by the third week of May.
The President has put his senior officials to work to get the minutest details of formation of governments since 1984. Data was obtained from the Union ministries of home, law, and parliamentary affairs.
At least three boxes of files are kept in Mukherjee's Green Study Room.
Crucial decisions by previous Presidents while swearing in then prime ministers -- Vishwanath Pratap Singh in 1989, Atal Bihari Vajpayee in 1998 and P V Narasimha Rao in 1991-- all three minority governments -- will form a guiding factor for President Mukherjee to articulate the formation of a Union government.
Mukherjee has also met with Constitutional luminaries in the past three months.
A senior aide said it is a sight to behold to watch the President read handwritten notes of former Presidents on installation of governments. "He shows great reverence for these notes," the aide said.
In his speech on the eve of Republic Day, President Mukherjee had enunciated the agonies of democracy during the tenures of minority governments.
'2014 is a precipice moment in our history,' the President said. 'We must re-discover that sense of national purpose and patriotism, which lifts the nation above and across the abyss; and back on to the road of prosperity. Give the youth jobs and they will raise the villages and cities to 21st century standards. Give them a chance and you will marvel at the India they can create.'
'This chance will not come if India does not get a stable government. This year, we will witness the 16th General Election to our Lok Sabha. A fractured government, hostage to whimsical opportunists, is always an unhappy eventuality.'
In 2014,' the President added, 'it could be catastrophic. Each one of us is a voter; each one of us has a deep responsibility; we cannot let India down. It is time for introspection and action..
The President has strictly adhered to the rule book. A source said the President has kept himself secluded since March 5 -- the day he gave the Election Commission permission to commence the process of electing the 16th Lok Sabha and announce the poll schedule.
"He has made a conscious self-regulated decision to not interact with any political personality," said a senior aide.
He has even refused to discuss political trends with his daughter Sharmishta and son Abhijeet, a candidate from the Jangipur Lok Sabha seat in West Bengal.
On May 18, Chief Election Commissioner V S Sampath will submit the 543 names that would have been elected to the President, and request him to constitute the 16th Lok Sabha.
Mukherjee is expected to give 21 days to the new prime minister to prove his majority on the floor of the Lok Sabha.
The reason for the 21-day period is a well-established practice: As a policy, the President's address is drafted by the new government, who are responsible for its contents.
Then a new Speaker has to be elected, and the motion of thanks has to be moved by a member and seconded by another member, which would be later passed by Parliament.
These are crucial for a new government. Twenty-one days therefore is justified, according to political observers at Rashtrapati Bhavan.