Bharatiya Janata Party prime ministerial candidate Narendra Modi's supporters seemed desperate to get a glimpse of their leader as they waited patiently on balconies and rooftops along the 4 km route of his road show. Sharat Pradhan reports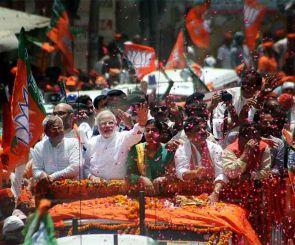 Bharatiya Janata Party prime ministerial nominee Narendra Modi on Thursday took Varanasi by storm as he arrived to file his nomination from the ancient city.
It clearly was a rare spectacle as thousands -- young and old - swarmed the streets of Varanasi to join Modi's cavalcade as.
Both Modi and his fans braved the scorching sun, as he rode atop an open truck, with his closest lieutenant Amit Shah and Uttar Pradesh BJP president Laxmi Kant Bajpai by his side.
Modi waved out at the delirious crowds who cheered him on as they raised the 'abki baar Modi sarkar' slogan.
People did not seem to mind the long wait as Modi's road show ran at least two hours
behind schedule.
Perched on balconies and rooftops all along the 4 km route from Kashi Vidyapeeth to the district collectorate, they seemed to be desperate to catch a glimpse of Modi.
Donning saffron caps emboldened with 'Modi for PM', the excitement on their faces was visible. Many young men -- first time voters -- proudly confessed how they had spent their own money to not only buy those caps but also to reach Varanasi from neighbouring villages for a glimpse of their "hero."
Earlier, Modi landed at a specially prepared helipad at the Benaras Hindu University campus where he garlanded a statue of BHU founder Madan Mohan Malviya. He
then took another short helicopter ride to Kashi Vidyapeeth, where he garlanded the statue of Sardar Patel before hopping on to a mini truck to start his road show. This road show concluded at a statue of Swami Vivekanand.
Attired in a spotless white kurta-pyjama, Modi alighted from his vehicle and strode into the tiny triangular park.
"I have not seen so much crowd on the streets of Varanasi even on days when prominent political leaders have addressed rallies," said Anuj Singh, 21, a BHU law student.
Retired police sub-inspector Dhirendra Kumar Singh, 66, is not a Modi supporter yet he admits that Modi drawing impressive crowds. "We believe that he able to do so because of the communal polarisation."
"I do not deny that he may win, but I am not going to vote for him," said Singh, while waiting for Modi's entourage under the shade of a roadside tree.
Soon after the roadshow Modi got into a bulletproof car that drove him to the collectorate where he filed his nomination papers. The four sets of nomination papers he filed had proposers from different walks of life.
They included a retired high court judge Girdhar Malviya, who is a great grandson of the late Madan Mohan Malviya, renowned Indian classical singer Chanu Lal Misra, local boatman Virchadra and weaver Ashok. Interestingly, each of them represented the ethos of Varanasi. The idea was to convey that Modi enjoyed support from various sections of society in Varanasi.
Despite Modi's bid to shun the typical Hindutva line, his contest from this ancient Hindu city was seen as an obvious indication to send a message to BJP's traditional voter that it was not as if Modi had given up Hindutva completely. In fact this was part of his strategy to tap the non-traditional BJP voter.
Image: Modi flashes the victory sign as he heads to file his nomination in Varanasi on Thursday
Photograph: Sandeep Pal/Rediff.com