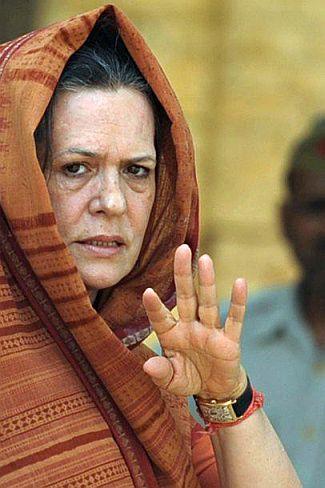 On a day when Bharatiya Janata Party's prime ministerial candidate Narendra Modi invoked 'Maa Ganga' before filing his nomination in Varanasi, Congress president Sonia Gandhi on Thursday took him on his home turf, saying his party does not believe in 'Ganga -Jamuni tehzeeb'(composite culture).
Addressing her first election rally in Gujarat, the Congress president also ridiculed the Chief Minister for his claim that if he comes to power at the Centre he will transform the country into `swarg' (heaven) and asked, "Is there swarg in Gujarat?"
Special Coverage: Election 2014
Gandhi referred to 'Ganga-Jamuni tehzeeb'-- an euphemism for the mutually participatory co-existence of Hindu and Muslim culture of Northern India--while highlighting that the 2014 Lok Sabha elections is a fight between two ideologies.
"We believe in total democracy, we take everyone along, we treat everyone as equal. However, the BJP has a different ideology," she said. "It dances to the tune of an organisation which does not believe in 'Ganga-Jamuni tehzeeb' (composite culture)..., and creates discrimination in the society through hate mongering, narrow-mindedness and hardline thinking," she said, apparently referring to the Rashtriya Swayamsevak Sangh.
"Such an ideology is harmful to the country's traditions and ideals which we have nurtured for centuries. It wants to impose cruelty in the name of unity," she said and asked voters to reject such an ideology.
Referring to Modi's claim that if he comes to power, he will transform the country into `swarg' (heaven), Gandhi said, "The country cannot be built in one day. It needs vision, right thinking, determination. "The Congress possesses these qualities and has made India what it is today.
The Congress of Mahatma Gandhi, Sardar Patel and other great leaders has many achievements to its credit," she said. Gandhi also said Gujarat was nowhere near "swarg" (heaven) as claimed by Modi.
"He does not tell you the truth about difficulties which you might be facing in your day-to-day life," Gandhi said, targeting Modi without mentioning his name. The Congress chief also accused Modi of being concerned only about his chair. Gujarat goes to polls on April 30.
"He is just interested in his chair. They are not interested in welfare of the poor people."
"The debt of Gujarat government stands at 1.75 lakh crore, many villages do not get drinking water, every second child below the age of five is malnourished here and school dropout ratio is highest in Gujarat," the United Progressice Alliance chairperson said.
"Most surprising thing is those who earn more than Rs 11 a day are not considered poor by the Gujarat Government. Now you tell is this `swarg' (heaven) or something else?" she asked.