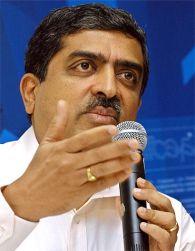 It was meant to be a healthy debate ahead of the Lok Sabha elections but had to be called off due to a major verbal duel.
The problem began when Infosys co-founder-turned-Aadhaar Chairman Nandan Nilekani, who is contesting the Bangalore South seat on a Congress ticket began his talk in English. As he began his speech, people demanded that he speak in Kannada. Nilekani, however, continued to speak in English, which agitated the crowd.
Congress supporters began verbally abusing the Bharatiya Janata Party supporters who had demanded that Nilekani address the crowd in Kannada.
Ananth Kumar, the BJP candidate contesting against Nandan, tried to pacify the crowd but in vain. Nilekani too tried his best to pacify the crowd.
The other speakers at the debate Ruth Manorama, Janata Dal-Secular candidate from Bangalore South and AAP candidate Nina Nayak watched helplessly. After all efforts to pacify the crowd failed, the debate was called off.
The debate was organised between candidates contesting from the Bangalore South constituency to discuss issues ahead of the elections.
Ananth Kumar blamed Congress workers for the incident, while members of the Aam Aadmi Party staged a silent protest outside the venue.
Image: Congress candidate from Bangalore South seat Nandan Nilekani