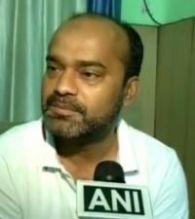 In a major embarrassment, the BJP on Saturday made a hasty retreat, the second in a week, when it annulled the membership of controversial Janata Dal-United leader Sabir Ali, in less than 24 hours of his induction following intense opposition from within and the Rashtriya Swayamsevak Sangh.
"BJP President Rajnath Singh has decided that the membership of Sabir Ali stands annulled," BJP leader Ravi Shankar Prasad said at a press conference after the RSS and more leaders from within lent their voice against his admission.
He said the BJP chief took the decision after taking note of the public comments made by some party leaders but asked them to raise matters concerning decisions within the party forum and not go public, following the open criticism of the decision by Naqvi and others.
"Taking note of some comments of BJP leaders coming out in public domain, Rajnath Singh has also asked partymen to air their views on party decisions at the party forum only," he said.
Ali had today morning written to BJP general secretary Dharmendra Pradhan, also incharge of party affairs in Bihar, that in view of the allegations levelled against him his membership be kept on hold.
BJP Vice president Mukhtar Abbas Naqvi had on Friday attacked Sabir Ali as a friend of terrorist Yasin Bhatkal and strongly opposed his entry into the party, terming it a "mistake" that needs to be rectified.
Expressed satisfaction over the development, Naqvi removed his tweet on Ali saying the matter is closed for him now.
But not all in the BJP seem to be unhappy over Ali's induction.
Former party president Nitin Gadkari said, "It is election time and the prime focus is to defeat Congress. We need to move forward with everyone's support".
Senior leader Arun Jaitley said it is the investigation or the judiciary which will decide on whether anyone is guilty or innocent and should not take the country to such a passe that a political party or a TV anchor would decide that.
The induction of Ali, who had hopped from LJP to RJD and to JD-U from which he was expelled for his remarks praising Narendra Modi, provoked Naqvi to make a mocking statement whether Dawood Ibrahim would be the next entrant into BJP.
The RSS had also raised strong objections on Ali's entry into the BJP and the issue was taken up by its leaders with the BJP leadership.
RSS Spokesperson Ram Madhav had tweeted, "Sabir Ali induction has caused great resentment. Party leadership has been apprised of d strong views of d cadre n people angst it."
This is the second instance of the BJP cutting a sorry face after it inducted a controversial right wing activist and Sri Ram Sene chief Pramod Muthalik by the Karnataka unit, which threw him out within hours after strong criticism from both within and outside the party.
Muthalik's Sene activists were involved in attack on women in pubs in Mangalore a few years ago after which he was also jailed. Now he has taken a vow to avenge his humiliation at the hands of BJP in the current elections.
With the tide in the saffron family rising against him, Ali challenged Naqvi to prove the allegations, saying he has not even seen Bhaktal in his dreams, but came to know only through newspapers.
Criticising the decision to induct Ali, Punj said, "There was no reason to induct a man, who in the past has been tainted with serious charges of terrorism".
"The perception about his past does not gel at all with the culture of BJP," he said.
Naqvi, a Muslim face and Vice President of the party, yesterday tweeted, "Terrorist Bhatkal friend joins BJP...soon accepting Dawood...," hours after Ali was inducted into BJP.
Naqvi said the party has been fighting against terrorism and has been touting as being "different", how can it justify the entry of someone who has links with terrorists.
He had alleged that Bhatkal was arrested from Ali's Mumbai residence some time ago, even as his name had figured in the murder case of noted music magnate Gulshan Kumar.
BJP spokesman Sudhanshu Trivedi had said the induction was done on the recommendation of Bihar unit of the party.
JD-U had expelled Ali, once a confidant of Bihar Chief Minister Nitish Kumar, for praising Modi. It had declined to renominate Ali and two other MPs, including N K Singh who also later joined BJP, to the Rajya Sabha.
Ali was JD-U's candidate from Sheohar constituency for Lok Sabha elections before the party withdrew his candidature following his praise for Modi.
Image: Controversial former Janata Dal-United MP Sabir Ali