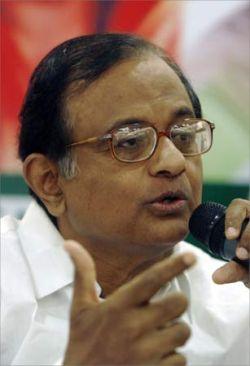 Union Minister P Chidambaram has opted out of the Lok Sabha election with the party on Thursday night nominating his son Karti from his constituency Sivaganga in Tamil Nadu while another Union Minister Ghulam Nabi Azad was brought as a candidate from Udhampur in Jammu and Kashmir.
Soon after the announcement, Karti said, "My father has contested nine elections and thought it is time to give way. He is definitely not retiring from politics."
The name of Azad and Karti figure in the list of 50 Congress Lok Sabha candidates announced on Thursday, which also brought an end to speculation over remaining two Lok Sabha seats of Delhi West Delhi and South Delhi with the party re nominating sitting MPs Mahabal Mishra and Ramesh Kumar.
Congress had already nominated sitting MPs in five other seats of Delhi. With the announcement on Thursday, all seven sitting MPs of Congress stand re-nominated.
All India Congress Committee general secretary Digvijay Singh's brother Laxman Singh has been fielded from Vidisha in Madhya Pradesh from where Leader of Opposition Sushma Swaraj is the sitting BJP MP. Singh's son in-law Paranjayaditya Singh Parmar, whose name figured as a candiate from Panchamahal seat in Gujarat in the second list has been dropped. Ramsingh Parmar is the new candidate from the seat.
Former Union Ministers Mani Shankar Aiyar has been nominated from his traditional seat of Mayiladuthurai and R Prabhu from Coimbatore.
In Udhampur, where Azad has been made the candidate, sitting MP Lal Singh will be considered for MLC seat, AICC general secretary Madhusudan Mistri told reporters.
Expelled JD-(U) MP Purnmasi Ram, who joined the Congress on Wednesday, has been brought in from Gopalganj in Bihar replacing Dilip Kumar Manjhi, who was declared the party candidate earlier.
Congress has changed its candidates in two other seats in Bihar including Hajipur, where it has brought in Sanjiv Prasad Tony replacing Pratima Kumari and in Patna Saheb Kunal Singh has come in place of Raj Kumar Rajan.
In Bhind reserved seat in Madhya Pradesh, the party has made Imrati Devi its candidate after the embarrassment it suffered with the exit of Bhagirath Prasad, who quit Congress and joined BJP after getting the party nomination from the seat.
Several sitting members including Manic Tagore have been re-nominated from Tamil Nadu, where Congress is fighting a lonely battle after former ally DMK refused to have a tie-up with it.
AICC secretary K Jaikumar has been fielded from reserved Tenkasi seat and EVKS Elangovan from Tirupur.
In Uttar Pradesh the party fielded Atul Chaturvedi from Firozabad seat, which was represented by Raj Babbar, who is now contesting from Ghaziabad.
Acharya Pramod Krishnam, who is a known critic of Yoga Guru Ramdev, has been nominated from Sambhal.
Kirit Patel, a minister in the then Shankersinh Vaghela government, who had joined Congress along with Vaghela, has been fielded from Gandhinagar from where L K Advani is the BJP candidate.
Madanlal Sharma has been fielded from Jammu. With today's fourth list of 50 candidates with four replacements out, the total number of candidates declared by Congress so far is 364.