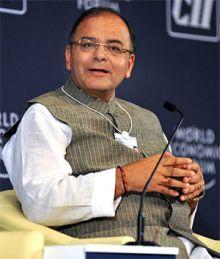 The Shiromoni Akali Dal on Sunday welcomed its alliance partner Bharatiya Janata Party's decision to field Arun Jaitley from Amritsar, and said he would win the elections by a heavy margin.
Addressing a press conference in Amritsar, SAD leader and Punjab minister Bikram Singh Majithia said his party activists would accord warm welcome to Jaitley, the leader of Opposition in the Rajya Sabha, on March 18 when he visits the city to pay obeisance at the Golden Temple to begin campaign.
He said Jaitley will raise the issues of Amritsar and that of Punjab in right perspective at the national level.
The SAD leader said though Prime Minister Manmohan Singh was from Amritsar, he failed to bring any development to the city. But the holy city will now be benefited as it has got a "strong advocate" to raise issues at the national level.
He hoped that Jaitley would work to improve relations between India and Pakistan which will in turn benefit Amritsar and Punjab.
On sitting BJP MP Navjot Singh Sidhu, Majithia said he had done his work well. "He (Sidhu) is like my elder brother. He has done well," he said.
Majithia said the Congress had already accepted defeat and many of its senior leaders "are now shy of even contesting the elections".
First Congress vice president Rahul Gandhi refused to be the party's prime ministerial candidate, and now several top leaders, including Manish Tewari, are refusing to contest, he said.
"I pray for good health of Tewari, but there is also a feeling that if he is finding a way out from contesting in the Ludhiana seat knowing well that he had failed to bring any development to the city," he said referring to Tewari's ill health and subsequent hospitalisation on Saturday.