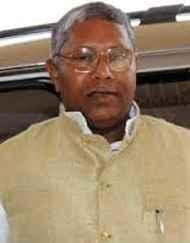 Bihar assembly speaker Uday Narain Choudhary, who is contesting Lok Sabha polls from the Jamui seat, refuted on Friday that he entered into a pact with the Maoists for their support to win the election.

"I am on the hit list of Maoists. I am not freely moving for my campaign because Maoists are my enemies. How can I seek their support," Choudhary, the ruling Janata Dal-United candidate from the left wing extremism-affected constituency, wondered.
An intelligence report submitted to the Union home ministry on March 31 -- that came to the fore on Thursday -- suggested that Choudhary sought the help of Maoists to turn the tide in his favour, and that the Maoists assured him support in the upcoming general elections.
The report also suggested that Choudhary had recently met Sidhu Koda alias Sidhu Manjhi, commander, special platoon, Communist Party of India-Maoist, and persuaded him for support.
However, Choudhary on Friday dubbed the report as 'baseless' and a handiwork of his political rivals.
"I challenge intelligence agency to substantiate their allegations and furnish proof. There must be a basis behind it. Mere allegations cannot be enough," Choudhary told Rediff.com.
Even Bihar Chief Minister Nitish Kumar defended Choudhary and said that the report was far from truth, adding that "some vested interest groups are trying to brand him (Choudhary) a Maoist".

In February, former chief minister and Rashtriya Janata Dal supremo Lalu Prasad Yadav had described Choudhary a 'Naxalite' and accused him of harbouring the Maoists.
Choudhary is contesting against Lok Janshakti Party chief Ram Vilas Paswan's actor-turned-politician son Chirag Paswan in the Jamui seat.
The LJP recently entered into an alliance with the Bharatiya Janata Party and Rajnath Singh, the president of the saffron party, addressed an election meeting in Jamui seeking votes for Chirag on Thursday.

Choudhary is presently an MLA from Imamganj assembly constituency, a Maoist-affected seat in Bihar's Gaya district.
Image: Bihar assembly speaker and JD-U's Jamui candidate Uday Narain Choudhary