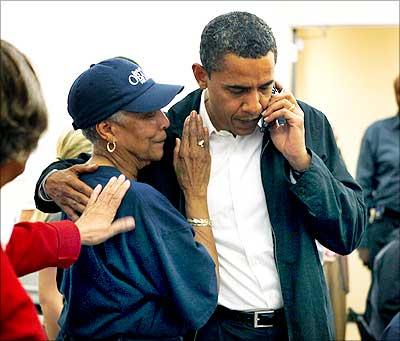 Yogi Chugh is currently the President-Elect of the Indian American Forum for Political Education (IAFPE).  He has served on the Alameda County Democratic Central Committee and the Tri City Democratic Forum, which has allowed him to work on various political initiatives and campaigns.  
Currently, Chugh is the Vice Chair of the Ohlone Area United Democratic Campaign for Fremont, Union City and Newark where he is focusing on the Presidential, State, County and Local elections.
Yogi Chugh works in a senior management role at Sony Computer Entertainment America. Recently, he was honored by Comcast and the International Channel's, "Vision In America" Award for community service. He is also a Planning Commissioner, City of Fremont, and serves on the Fremont Education Foundation.
Have you voted? Where and When?
I will vote tomorrow and will voting for Obama/Biden. I have always voted at the polling place and look forward to doing this during each election cycle.
Why will you vote for Obama? What makes him the best candidate?
Obama represents the best for America. His message of change has resonated with voters. He has been able to create a level of excitement unlike anything that I have seen in the last 22 years that I have lived in the US. His story is a compelling one, and provides America a message of hope and conviction that America deserves better. His political philosophy clearly outlines that as a Nation we must lead and America must rise to the occasion of bringing change in how government addresses issues facing our nation. His economic, foreign and domestic and social policies are focused towards all of our citizens and talks about sacrifice in a way that endears the common man to believe in government and how Washington acts. 
 If Obama wins, how will it affect the Indian-American community directly?
Obama's victory changes America in general. It may not affect Indian Americans directly. As Indian Americans, our values are now so intertwined with what is best for us as Americans. I do see a better relationship with India, and as Indo-US relations improve, how we as Indian Americans are perceived in America continues to improve as well. I also see a record number of Indian Americans appointed to positions within the Obama Administration. Politically, I also see the Indian American community playing a much bigger and significant role in Democratic politics and politics in general.
Why does the Indian-American community need to vote in this election?
Indian Americans need to vote not only in this election, but in each election. We need to ensure that our community is seen as a community that votes and is sensitive to the issues that affect America. With our fundraising successes we also need to be seen and recognized as a strong voting bloc. Democracy is not a spectator sport and we must ensure that we vote in every election.
What are the ways in which the community can be involved?
High School and College Internships, Being involved in local Democratic and Republican parties. Building relationships with faith based organizations, labor/business coalitions and volunteering with local campaigns.
You have made a lot of efforts so that the India American community, especially the young generation, gets involved in politics. Can you tell us more about your efforts?
The Indian American Forum for Political Education has had the longest serving Student Internship Program. This has allowed our younger generation builds invaluable experience n how the legislative branches of Government work and operate.
Locally through the Democratic Party we have arranged workshops for high school and College students in helping them understand how grassroots politics works, focusing on precinct walks, how to run an effective campaign, etc.
Are you happy with Indian American community's participation/contribution in this election?
This election has done much for the rise of the Indian-American community. Within both the McCain and Obama campaign, we have a record number of Indian Americans serving in senior roles. Some of them as close to the principal candidates as we have ever been and have been at the forefront in articulating and defining the positions that the candidates have publicly framing on the stump. Some of the prolific fundraisers have assisted in ensuring that unprecedented amounts of money was raised and attributed directly to the Indian American community. I am so proud of what we have accomplished and I think this is a defining moment for our community no matter who the President will be.
ALSO READ: 
 'Obama is once-in-a-century candidate'
 'Obama can handle crisis better'
Image: Alverna Bracy, 76, cries leaning on the shoulder of  Obama after the death of Obama's grandmother. 
Photograph: AFP/Getty Images