November 04, 2008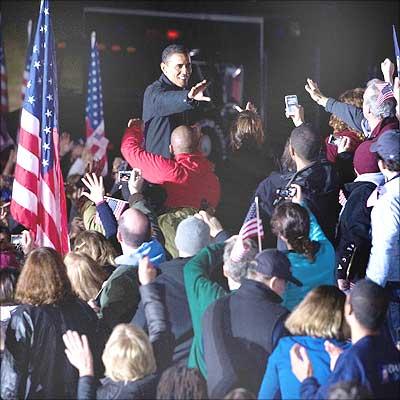 The United States is on the cusp of making history. While the rest of the world is keenly awaiting the poll results, various communities there are rallying for their respective favourite candidates.  
On poll eve, Rujuta Paradkar talked to Dr Kamil Hasan, who has over 30 years of experience in the high technology industry in Silicon Valley. Hasan is a Democratic super delegate and the National Co-chair of the Asian-Americans for Obama Finance Committee.
Hasan received his BS degree in engineering from Aligarh Musliim University in India, an MS degree in engineering from MIT and a PhD in engineering from the University of California, Berkeley. He worked as an Assistant Professor at the Indian Institute of Technology, New Delhi [Images], and as an Associate Professor at Stanford University before he founded his first software company.
Have you voted? Where and When?
Yes. I voted for Senator Obama using the Absentee Ballot last week.
Why did you vote for Obama? What makes him the best candidate for the United States President's post?
In my opinion, this is the most important election of our lifetime. The country is facing extremely serious problems, including an economic meltdown, an energy crisis, wars in Iraq and Iran, a healthcare crisis, a divided country and a very bad image worldwide. Obama is a once-in-a-century kind of transformational candidate, with superb intelligence, high integrity, excellent judgment, and the ability to unite the country behind him, who has the capability to solve these problems and elevate the image of the country to a level not seen since John Kennedy was the President.
The McCain-Obama 90-minute battle
If Obama wins, how will it affect the South Asian community directly?
As a minority candidate, with immigrant roots, he will become a role model for young people in the South Asian community, who can aspire to become President some day. Also, his values resonate with those of South Asians, and the high priority domestic issues for our community, such as economic competiveness, science and math education, innovation, healthcare, immigration, civil rights and racial profiling are also very important to him. 
Why does the Indian-American community need to vote in this election?
If we want to ensure the election of those political candidates who support the issues important to our community, we need to get actively involved in the political process. The first step in that direction is to vote. One of the most important issues important for us is the continuing improvement in US-India relations. The active involvement of our community has already helped with the passage of US-India nuclear deal. Our continuing active political involvement can empower our community to influence other important policies and the strategic direction of this country.
The India Abroad Presidential Debate
What are the ways in which the community can be involved?
The Indo-American community can get politically involved in the following different ways:
1.  By voting individually and convincing other Indo-Americans to vote
2.  By running for political offices: local, state and federal
3. By providing intellectual help and our expertise to political candidates, parties and administration in developing policies, especially those related to innovation, healthcare and economic competiveness
4. By fundraising for political candidates who support issues important to our community.
'Obama is well-equipped to handle financial crisis'
You are the only Indian American DNC official, isn't it time for more?
There is definitely a need to have more Indo-American members of DNC, as well as RNC. But, we need to get involved with major political parties not only at the federal level, but also at state and local levels. But, more importantly, we need Indian Americans to run for political offices at local, state and federal levels. We also need Indian Americans in major positions in the next administration. Obama has personally assured me that he will consider including Indian Americans in his administration, if he gets elected.
Image: Democratic presidential candidate Barack Obama [Images] at a night rally at the Prince William [Images] County Fairgrounds in Manassas, Virginia, on November 3, a day ahead of the US presidential election.  Photo: Brendan Smialowski/Getty Images
Complete coverage: The US Presidential Race