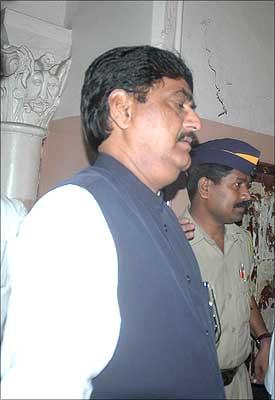 Bharatiya Janata Party leader Gopinath Munde leaves the trial court on April 18 after finishing his testimony in the Pramod Mahajan murder case.

Munde's revelation could take Pravin Mahajan closer to conviction by the trial court for murdering his brother-in-law. His statement in the court on April 11 that the slain BJP leader had received a 'threatening' SMS from Pravin a few days prior to being shot at last year, has come as shot in the arm for the prosecutors in the case.
Ab yachna nahi ran hoga! Jivan vijay ke sath jiye ya maran hoga (It is war now, no more skirmishes! Either one lives victorious or embraces death) -- according to Munde, Pramod received this message a few days after Pravin had gone to Pramod's residence, demanded Rs one crore and said that he would face the consequences for not paying him the amount.
After receiving the message, Pramod asked me to speak to Pravin about it, the BJP leader added.
On April 17, Munde identified Pramod's cell phone and also the threatening SMS before Additional Sessions Judge Shrihari Davare. A day later, Special Public Prosecutor Ujjwal Nikam submitted a six-page supplementary charge sheet containing the statement and certificate provided by Reliance Infocom officer Gyanendra Upadhyay about the message.

The computer-extract stated that a message was sent from mobile number 9323960307 (owned by Pravin) to mobile number 9811445454 (owned by Pramod) on April 15, 2006 at 1639 hours. The message was found in the inbox of a phone.