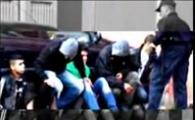 A French court recently sentenced Mohammad Niaz Abdul Rasheed, an Indian national, to eight years in prison for criminal conspiracy.
Rasheed, a resident of Trichy in Tamil Nadu, is a mechanical engineer. Intelligence agencies believe that he joined the Students Islamic Movement of India at the age of 21.
Rasheed decided to carry out terror strikes in France as he believed that French authorities were targeting Islam with steps like banning the burqa.
Rasheed is part of the lone wolf terror club -- self-trained and self-motivated terrorists who launch attacks on their own.
He reportedly spent a lot of time downloading jihadi literature and even possessed a manual on assembling a bomb. He was inspired by speeches made by Taliban leaders and often aired his views on social media. But he never belonged to any terror outfit.
Rasheed wanted to carry out a series of blasts in France and send a strong message to the authorities.
During his interactions on social media, he tried to create a platform where several similarly disgruntled youth could come together. 'Don't just think or speak, join the fight', he often exhorted these young men.
Indian security agencies have had Rasheed on their radar for some time. They had issued an alert after he left the country though they could not find any links with any terror organisation. The agencies were also trying to find a possible money trail between Rasheed and his contacts in Kerala.
Rasheed had even recruited two French men for his terror mission and sent them to Pakistan to receive training. French authorities, with the help of inputs from Indian investigators, had finally arrested Rasheed at the Charles de Gaulle airport in Paris in May 2011.
They have since found that he was in touch with Umar Patek, the terrorist behind the Bali bombings, as he wanted to form a nucleus of jihadis. Rasheed, however, was never in touch with any terror operative in India.
Rasheed joins the list of lone wolf terrorists such as Kafeel Ahmed and Dhiren Barot alias Abu Musa.
Kafeel Ahmed, who hailed from Bangalore, had carried out the suicidal Glasgow bombing. Dhiren Barot, who was born in Vadodara, was arrested for plotting a series of bombings at the New York Stock Exchange.
Image: A blurred photograph from the scene of Mohammad Niaz Abdul Rasheed's arrest at Charles de Gaulle airport in Paris