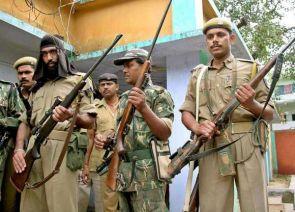 The Bihar government has always been extremely touchy when it came to the subject of terrorism and in the past two years they have made that clear twice.
The refusal to question, let alone file a case against Indian Mujahideen commander Yasin Bhatkal, came as a surprise to the Intelligence Bureau that took him to Bihar after the terror suspect's arrest.
Sources in the Intelligence Bureau told rediff.com that the Director of Intelligence Bureau Asif Ibrahim had personally spoken to the top rung of the Bihar Police about Bhatkal.
While many in the agency believe that orders from the top made the Bihar Police reluctant, Additional Director General of Police, Special Branch, Rajesh Chandra rubbished these allegations. He says there is no case against Bhatkal and felt the matter fell under the jurisdiction of the National Investigation Agency.
But this is not the first time the Bihar administration has reacted adversely in terror cases. Last year the chief minister had shot-off a letter to the Karnataka government protesting the arrest of an operative Kafeel Ahmed. He said the arrest was objectionable as they were not kept in the loop about the same.
The Bangalore Police, which conducted the operation jointly along with the Andhra Pradesh Police, say that repeated requests to the Bihar Police to cooperate had fallen on deaf ears.
Several security agencies who have been probing the Bihar module of the Indian Mujahideen say there is too much politics involved. Leaders turn a blind eye to infiltration and illegal immigration for vote bank politics.
Yasin Bhatkal confirmed during questioning that some local leaders were helpful in aiding infiltration. Networking in Bihar mainly took place in North Darbhanga. Operatives who were roped in from this part were Fasih Mahmood and Qateel Siddiqui, who investigators say are major players.
IB officers say that though the case is with the National Investigation Agency the local Bihar police should also conduct a probe.
Both the IB and NIA say that the Darbhanga module is vast and has many operatives. There is a lot to learn from Yasin Bhatkal about this module which has been directly connected to the operatives in Bangladesh, who ensure that infiltration takes place regularly.
The hideouts, future plans and also the whereabouts of various other operatives ought to have interested the Bihar Police, sources say. However there are many who are worried about names tumbling out and hence the entire exercise was avoided.
C D Sahay, former Chief of the Research and Analysis Wing, says it is ironical that politicians find it suitable to ignore national security for political gains.
"It has happened in Uttar Pradesh in the past and led to the Azamgarh module. Should any political leader for sake of political gains ignore national security? Politicians don't realise that for short term political gains they are compromising national security which is a much larger issue.