The Lok Sabha secretariat on Wednesday restored the membership of Nationalist Congress Party leader P P Mohammed Faizal, who was disqualified from the lower house in January following his conviction in a criminal case with a 10-year jail term.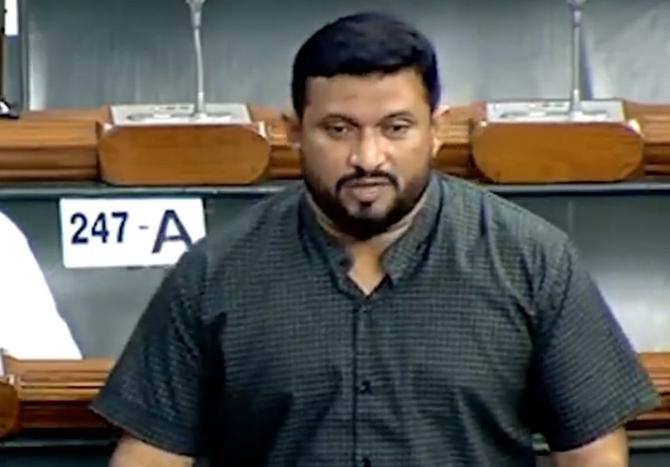 Faizal, who represents Lakshadweep, had moved the Kerala high court against the sessions court order and obtained a suspension of his conviction and sentence.
"In view of order dated 25.01.2023 of the high court of Kerala, the disqualification of Shri Mohammed Faizal P P, notified vide gazette notification no. 21/4(1)/2023/TO(B) dated the 13th January, 2023 in terms of the provisions of Article 102(1)(e) of the Constitution of India read with Section 8 of the Representation of the People Act, 1951, has ceased to operate subject to further judicial pronouncements," the Lok Sabha secretariat notification said.
The restoration of Faizal's membership comes ahead of a Supreme Court hearting in the matter.
Following this, the Supreme Court on Wednesday disposed of Mohammed Faizal's plea against his disqualification as member of Parliament.
A bench of Justices KM Joseph and BV Nagarathna took on record the notification of Lok Sabha secretariat restoring the membership of Faizal, who was disqualified from the lower house in January following his conviction in a criminal case with a 10-year jail term.
The bench said that it is leaving the question of maintainability of the plea open.
Senior advocate AM Singhvi, appearing for Faizal, produced the notification before the court and said that now that his membership has been restored, nothing survives in his plea.
"It took two months for the Lok Sabha to revoke his disqualification. It was done on Wednesday morning," Singhvi said and handed over the notification to the court.
Solicitor General Tushar Mehta, appearing for the Union territory of Lakshadweep, said that the court may take on record the notification and dispose of the plea.
The bench made it clear that the appeal of Union territory Lakshadweep against the January 25 order of the Kerala high court will be heard.
Faizal was disqualified from the Lok Sabha on January 13, after he and three others were sentenced to 10-year rigorous imprisonment and fined Rs 1 lakh each by a sessions court in Kavaratti for attempting to murder Mohammed Salih, son-in-law of the late Union minister P M Sayeed, during the 2009 Lok Sabha elections.
The trial court had on January 11 convicted and sentenced him to 10 years imprisonment in the case.
Later, the high court stayed the conviction and the sentence imposed upon Faizal.
On February 20, the top court had issued notice to Faizal and others on the plea filed by Lakshadweep.