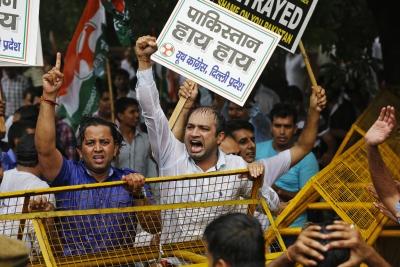 Pakistan on Wednesday summoned the Indian deputy high commissioner over protests outside its high commission in India and asked Centre to ensure the security of its mission and personnel.
"We have summoned the Indian deputy high commissioner to the foreign office to stress that protection of the Pakistan high commission and Pakistan house is the responsibility of the Indian government," Foreign office spokesman Aizaz Chaudhry said. "We also called for strengthening security of the Pakistani representation in New Delhi," he told PTI.
Some demonstrators gathered in front of "our high commission and Pakistan house", the envoy's residence in New Delhi, and shouted slogans against Pakistan, Chaudhry said.
Another Pakistani official said Indian Deputy High Commissioner Gopal Baglay was given a note verbale on the incident.
Tensions between the countries have increased following skirmishes along the Line of Control over the past two days in which five Indian soldiers were killed and two Pakistani personnel were injured.
Scores of Youth Congress workers held a demonstration outside the Pakistan high commission in New Delhi this afternoon to protest the killing of the five Indian soldiers.
During the demonstration, which started at noon, the protesters shouted anti-Pakistan slogans. Police used water cannons to disperse the protesters when they tried to break barricades and approach the mission.
Police detained around 75 protesters, including about nine women. They were later released.

Image: Activists of the Delhi Pradesh Youth Congress shout slogans behind a police barricade during a protest against Pakistan near Pakistan embassy in New Delhi

Photograph: Adnan Abidi/Reuters