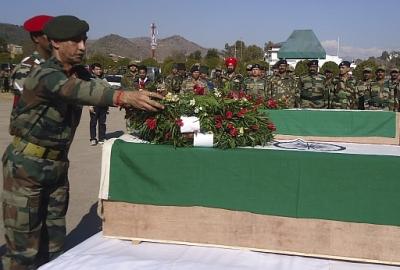 In yet another grave provocation, Pakistani soldiers crossed the Line of Control in the Poonch area and shot dead five Indian soldiers.
The defence ministry indicated that the Pakistani army was behind the attack, only to withdraw its statement later.
To no one's surprise, the neighbours have denied the charge.

Political drama unfolded in the Parliament within hours of the ambush.
The situation was no different when two Indian soldiers were brutally killed by the rival army in in January. One of them beheaded.
Note: Ceasefire violations by Pakistan have become routine. In fact, there has been a 80 per cent rise in the violations as compared to last year, the army said.

Clearly, it's a matter of utmost concern.

What should India do in response to the killings? Tell us.

Image: An Indian Army personnel places a wreath on a coffin containing the body of a colleague, who was killed by the Pakistani army in January

Photograph: Reuters